A neoclassical French architect, interior decorator, and designer, Charles Percier was an illustrious representative of Directoire Style and Empire Style.
Image source: https://en.wikipedia.org
About his life
Percier was born in Paris in 1764. In 1784, at age nineteen, he won the Prix de Rome, a government-funded scholarship in Rome. Then he met Pierre-François-Léonard Fontaine who became his friend for life. Percier & Fontaine became the leading architectural firm of the Napoleonic period, their work influenced the whole of Europe and America and the widespread adoption of the Empire style. In 1801, Percier was appointed government architect.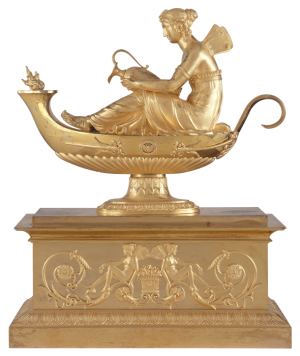 Image source: https://alchetron.com
What were his major works?
For the old royal palaces and the new Bonapartes residences, together with Fontaine, he designed interiors, walls, and ceilings and designed furniture, accessories, and ornament. They designed the arcades of the rue de Rivoli and rue de Castiglione along the Louvre and designed the Arc de Triomphe du Carrousel which connected the Louvre and Tuileries (1806–08), the Louvre and the Palaces of the Tuileries did much of their work. They also worked on the Château de Saint-Cloud and the Château de Fontainebleau.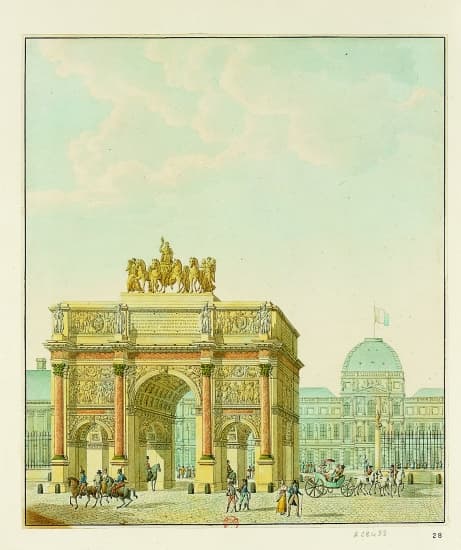 Image source: https://www.larousse.fr
In the Recueil de décorations intérieures (1801–1812) Percier's products in interior decoration and furniture design were presented, a collection of 72 plates of furniture and furnishings and the most important and influential book of ornaments in France at the epoch. Recueil was Persier's masterpiece, according to Fontaine's admission. Although both signatures were affixed to the plates, Persier drew and engraved them himself.
Image source: https://enfilade18thc.files.wordpress.com
How can we identify Percier's style?
Percier favored luxurious and grandiose renditions of neoclassicism, the so-called Directory style, and the Empire style. The style is distinguished by a small amount of detail and ornamentation, inspired mainly by ancient Roman objects that were discovered during excavations in Pompeii. Directory furniture was the last phase of the Louis XVI style. The Empire style was based on the inspiration of Napoleon by the greatness of Ancient Egypt and imperial Rome.
Image source: http://digicoll.library.wisc.edu
Info sources: https://www.britannica.com/art/Empire-style https://www.britannica.com/art/Directoire-style https://www.britannica.com/biography/Charles-Percier Charles Percier: Architecture and Design in an Age of Revolutions https://en.wikipedia.org/wiki/Charles_Percier#cite_note-1 http://www.encyclopedia.com/people/literature-and-arts/architecture-biographies/charles-percier