During the 1830s, Thonet found out how to obtain curved chair components from bent wooden slats and glue. In 1836 his Boppard Layerwood Chair was a sensational success, and gave him the opportunity to acquire a glue factory and proceed in his bent wood and glued furniture research and production.
Image source:https://museum-boppard.de/explore/thonet-varietyofproducts/#Seite-01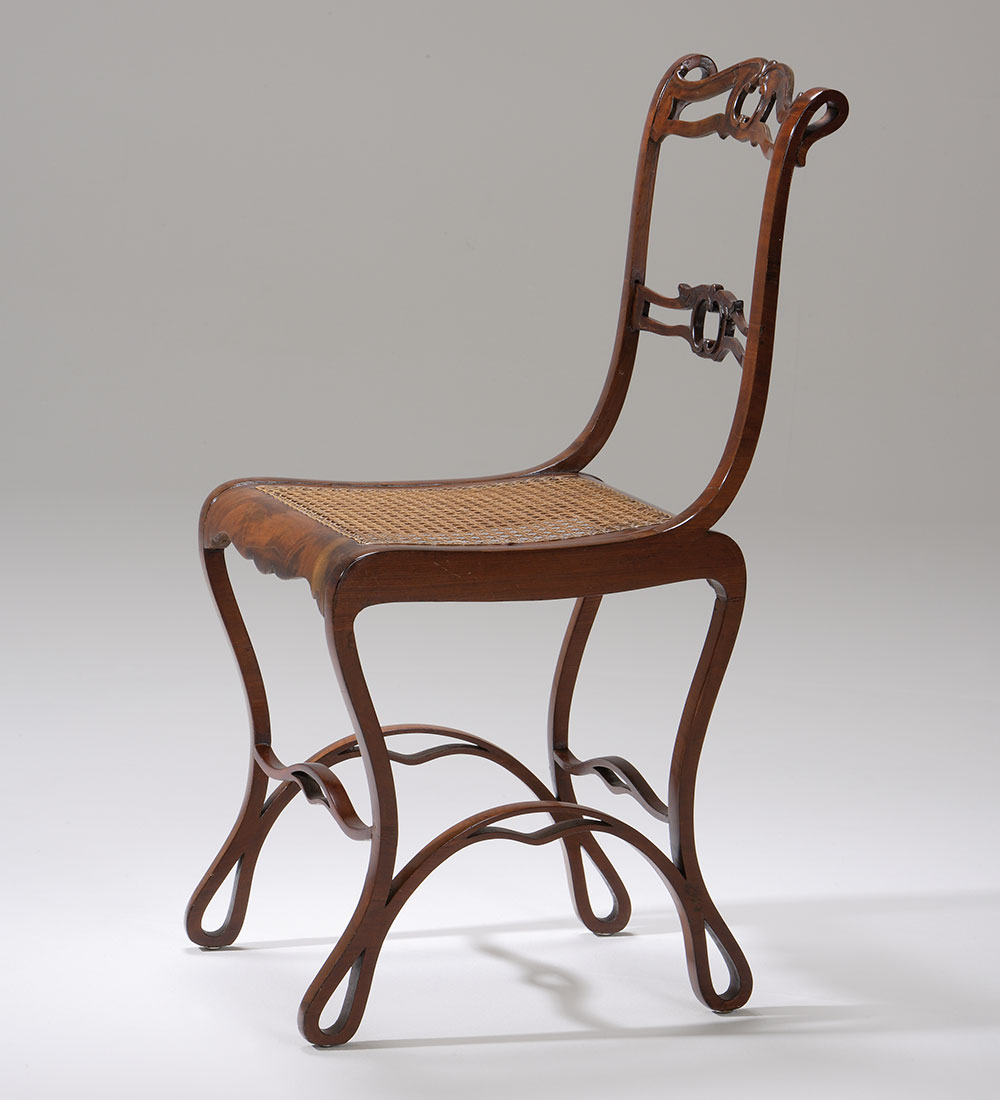 Image source: https://www.boisbuchet.org/collection/boppard-chair/
---
On the Verge of Success
While Thonet struggled for some time in the marketplace in the 1830s and early 1840s, there was interest in his methods of bending wood into curved and graceful forms using hot air steam. Thonet's bent wood furniture rejected the oversized, heavy, masculine wooden furniture of the Victorian period and offered a new furniture style and design. The result was durable furniture that was attractive, fashionable, and lightweight.
Info source: https://www.drloriv.com/Tips/ID/320/Thonet-Furniture
Image source:https://museum-boppard.de/explore/thonet-varietyofproducts/#Katalog-Seite-01
:https://museum-boppard.de/wp-content/uploads/2015/09/Katalog-Seite-07.jpg
From his first chair to the "chair of chairs"
In the 1830s, Thonet began trying to make furniture out of glued and bent wooden slats. His first success was the Bopparder Schichtholzstuhl (Boppard layerwood chair) in 1836. Thonet gained substantial independence by acquiring the Michelsmühle, the glue factory that made the glue for this process, in 1837. However, his attempts to patent the technology failed in Germany (1840) as well as in Great Britain, France and Russia (1841). Thonet's essential breakthrough was his success in having light, strong wood bent into curved, graceful shapes by forming the wood in hot steam. This enabled him to design entirely novel, elegant, lightweight, durable and comfortable furniture, which appealed strongly to fashion – a complete departure from the heavy, carved designs of the past – and whose aesthetic and functional appeal remains to this day.
Image source: https://www.abitare.it/en/gallery/events/thonet-exhibition-bicentenary-mak-vienna-gallery/?ref=404129&foto=2#gallery
At the Koblenz trade fair of 1841, Thonet met Prince Klemens Wenzel von Metternich, who was enthusiastic about Thonet's furniture and invited him to the Vienna court. In the next year, Thonet was able to present his furniture, and his chairs in particular, to the Imperial Family.
Image source: https://search.creativecommons.org/photos/6d4ffb6b-3260-4a41-8523-737a34ac4f40 by Mark B. Schlemmer
As the Boppard establishment got into financial difficulties, Thonet sold it and emigrated to Vienna with his family. In 1849, he again opened his own shop together with his four sons. A few years later, in 1853, he transferred the company to his sons under the name Gebrüder Thonet. In 1850 he produced his Nr 1 chair. The Great Exhibition in London 1851 saw him receive the bronze medal for his Vienna bentwood chairs. This was his international breakthrough. At the next World's Fair, Exposition Universelle in Paris 1855, he was awarded the silver medal as he continued to improve his production methods. In 1856 he was able to open up a new factory in Koryčany, Moravia. Its extensive beech woods were of great significance to his enterprise.
Image source: https://search.creativecommons.org/photos/93f9543d-9d1a-4b64-92a7-56fee9f754e6 by Holger.Ellgaard
The 1859 chair Nr. 14 – better known as Konsumstuhl Nr. 14, coffee shop chair no. 14 – is still called the "chair of chairs" with some 50 million produced and still in production today. The innovative bending technique allowed for the industrial production of a chair for the first time ever. The chair could be exported to all nations of the world in simple, space saving packages: 36 disassembled chairs could fit into a one cubic meter box.At the time, the chair no. 14 cleared the way for Thonet to become a global company.
Michael Thonet and the Mass Production
Firstly, thanks to his inventiveness, Thonet was able to work out a way of utilising techniques for his furniture, which lay way outside his trained profession. At the same time, he and his sons were successful in adapting the production of handcrafted individual pieces, via series production to mass production. In doing so, as a general rule, he didn't fall back on the offers of machine producers already on the market, but developed, constructed and optimised his tools and machines himself.
Image source:https://en.wikipedia.org/wiki/Michael_Thonet#/media/File:Michael_Thonet.jpg
Not only did he travel round European countries and set up a branch network, but he also founded the first American branch in New York as early as 1873. He reported home which preferences and needs the regional markets had, which a part of the production was geared towards.
Image source: https://museum-boppard.de/wp-content/uploads/2015/09/Katalog-Seite-06.jpg
Finally Thonet benefitted from the fact that since the beginning of the 19th century, a middle class was evolving, which we would describe as mainstream middle class. This social group represented an important part of the market, along with industrial customers.
Bentwood Chairs Today
The name "Bentwood" is derived from the fact that the wood on the chair has been bent into position. Using a combination of heat and moisture, the wood becomes soft and flexible enough to bend into different shapes. Once it dries out, the wood becomes hardened and keeps it new shape for many years to come. There are many different types of wood that can be used, although ash and beech are generally the best because they can bend easily and do not crack like other, harder woods tend to do under the process. Today, Bentwood chairs are found in millions of homes, businesses and facilities and have never really gone out of style.
Image source: https://search.creativecommons.org/photos/4dd6832a-7a0c-4691-998f-50f96230a8a5 by Олег Довгаль
The manufacturing process that Thonet had developed was quickly copied by others and Bentwood chairs of all types started appearing all over the world. Many of the top furniture designers in the world have put their own stamp on this unique chair thanks to the many different shapes that could be created. By the end of the 19th century, Bentwood chairs had truly entered a new age with the burgeoning economies of Europe and the United States opening up a whole new market of people who could afford the low priced chair for their homes.
Image source: https://www.drloriv.com/Tips/ID/320/Thonet-Furniture
Another interesting fact is that of the 80+ million Bentwood chairs that have been sold since their first creation, more than half of the sales occurred before 1930. While this particular type of chair is still highly popular, other types of chair designs have weaved their way into the general public. This means that the chair itself is not quite as popular as it once was, but it still holds a powerful place in our culture.
Image source: https://search.creativecommons.org/photos/3821e3a2-4da5-4711-8aaa-3bc3995050eb by williamd
Data sheet:
Designer: Michael Thonet
Year: c. 1836-1840
Manufacturer: Thonet & CO.     Boppard-am-Rhein, Germany
Medium: walnut, cane
Dimensions: 85.5 × 42.6 × 53.5 cm
Image source: https://www.ngv.vic.gov.au/explore/collection/work/21604/
---
Info source: http://museum-boppard.de/explore/thonet/#thonetmodernity
Info source: https://www.huset.com.au/blog/a-breif-history-of-thonet-bentwood-chairs/
Info source: https://www.ngv.vic.gov.au/explore/collection/work/21604/
Info source: https://en.wikipedia.org/wiki/Michael_Thonet