One of the few german industrial designers that creates innovative products
Sapper's main interest in his design work has centered on technically complex problems. He has developed and designed a wide variety of products, ranging from ships and cars, to computers and electronics, furniture and kitchen appliances.
Image source: https://en.wikipedia.org/wiki/Richard_Sapper#/media/File:Richard_Sapper.jpg
Richard Sapper was born in 1932. After pursuing courses in philosophy, anatomy, and engineering, he graduated with a business degree from the University of Munich.
He began his design career in the styling department of Daimler Benz in Stuttgart, before transferring to Milan, where he worked first for the architect Giò Ponti, and then in the design division of La Rinascente. In 1959, he also started to work independently, creating radios for Telefunken and clocks for Lorenz.
"I'm an impatient person, so if I've designed the same object three or four times, I want to try something else. This is a very good way of acquiring a vast amount of experience. I have designed cards, watches, clocks, kettles. Each new experience naturally is a challenge, but it always gives me the opportunity to draw on solutions that I have used in another kind of product."
Richard Sapper
Which were the companies and designers with whom he worked?
In the early 1960s, Sapper began to collaborate with the Italian architect Marco Zanuso, a partnership that would last for many years. Together, they acted as design consultants for Brionvega, an Italian electronics company, for which they developed a series of televisions and radios. In 1968, together with Pio Manzu and William Lansing Plumb, Sapper organized an exhibition on the boundaries of technology for the Triennale XIV. During the 1970s, Sapper was engaged as a consultant on the development of experimental automobiles for FIAT and on pneumatic structures for Pirelli, producing the concept for a car with a flexible skin designed to reduce impact in collisions. His clients include Alessi, Artemide, B&B Italia, Brionvega, FIAT, Heuer, Kartell, Knoll, IBM, Lenovo, Lorenz Milano, Magis, Molteni, Pirelli and many others.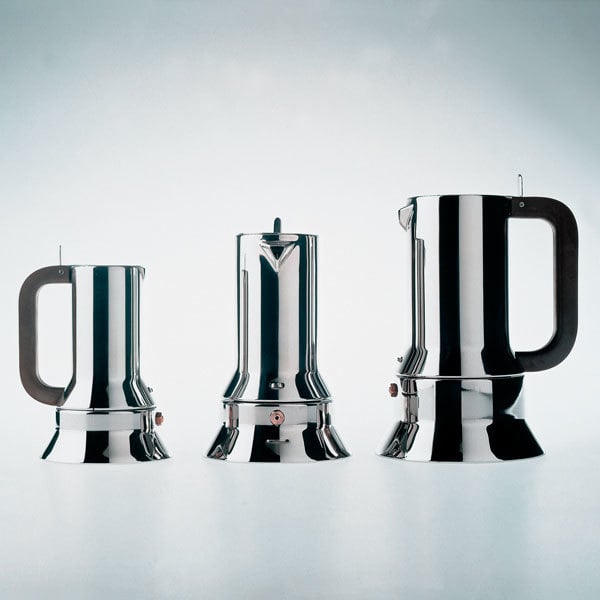 Image source: https://www.finnishdesignshop.com/tableware-carafes-jugs-coffee-pots-teapots-espresso-coffee-maker-9090-cups-p-10713.html
Which awards Sapper obtained?
Richard Sapper has received numerous awards for his products, and his designs are represented in the permanent collections of many museums internationally. He has been an Honorary Member of the Royal Society of Arts since 1988, and a Member of the Akademie der Künste in Berlin since 2001. In 1992, Sapper received the Lucky Strike Award from the Raymond Loewy Foundation for his design work. The German Design Council awarded him a lifetime achievement in 2009, and he was bestowed an Honorary Doctorate from the University of North Carolina in 2010. In 2012, Sapper received the Merit Cross of the Order of Merit from the President of the Federal Republic of Germany.
Image source: https://search.creativecommons.org/photos/68237ebf-137f-406c-98dd-d345633be548 by dr vaxon
Main works
Static table clock, (Lorenz Milan, 1960)
TV Doney (Brionvega, 1962) by Marco Zanuso
Chair K 1340, (Kartell, 1964) by Marco Zanuso
Grillo telephone, (Siemens Italtel, 1965) by Marco Zanuso
Desk lamp Tom, (Artemis, 1972)
Espresso Coffee Maker 9090, (Alessi, 1978)
System of office furniture From 9 to 5, (Castles, 1986)
Axis system Modular Power Transmission System (Hurth-Axle, 1991)
Tablet computer Leapfrog, (IBM, 1992) with Sam Lucente
Coffee Coban, (Alessi, 1997)
Folding bike Zoombike, (Elettromontaggi, 2000)
Image source: http://it.phaidon.com/agenda/design/articles/2016/january/04/richard-sapper-1932-2015/
---
Info source:
http://richardsapperdesign.com
For more references, please also visit: http://www.jbdesign.it/idesignpro