Malaysian architect, urban planner and author, Ken Yeang is best known for his ecological design and ecomasterplans.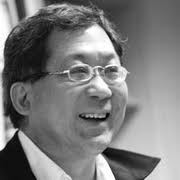 Image source: https://alchetron.com/Ken-Yeang#ken-yeang-a38b4738-dd8a-4f05-9fb9-2d70754e370-resize-750.jpg
About his life
Born in 1948 in Penang, Malaysia, Ken Yeang grew up with his parents in an early Modernist house. He obtained his qualifications in architecture from the Architectural Association School (AA) in London. He received a PhD in ecological design and planning from Cambridge University Department of Architecture, writing his doctoral thesis, later published as Designing with Nature (1995), which became the springboard for his work on ecodesign, green architecture and ecocity masterplanning. Yeang attended courses on ecology at the Department of Environmental Biology at Cambridge University. He is a member of the British Ecological Society. Yeang's headquarters is in Kuala Lumpur, Malaysia as Hamzah & Yeang, with offices in London and Beijing.
Image source: https://alchetron.com/Ken-Yeang#ken-yeang-a38b4738-dd8a-4f05-9fb9-2d70754e370-resize-750.jpg
What are his major works?
An interesting project is Yeang's own home, the so-called Roof Roof House (1985), whose distinctive dual-roof design filters the tropical Malaysian sun and provides shade. Among his major projects there are: Menara Mesiniaga Tower (1992, Selangor, Malaysia), a climate responsive tower that exemplifies Yeang's key principles; Kowloon Waterfront Masterplan (1998, Hong Kong), a green masterplan where he developed the green ecoinfrastructure concept and the novel use of ecocells; National Library (2005, Singapore), a green library tower with large sky courts;
Image source: https://en.wikipedia.org/wiki/Ken_Yeang#/media/File:Cmglee_Mesiniaga_Tower.jpg

Image source: https://search.creativecommons.org/photos/137e7e8d-3fc2-48f5-ae2d-9275dafb0f88 by jonolist
SOMA Masterplan (2006, Bangalore, India), a signature ecomasterplan which merges his innovative idea for ecocity masterplanning as the integration of four ecoinfrastructures, with the use of ecobridges and ecoundercrofts to enable ecological nexus; DiGi Technical Office (2010, Shah Alam, Malaysia), which advances the idea of a living ecowall as a nexus of greenery linking all the facades; Solaris (2010, Singapore), which has the innovative 1.5 km long Vertical Linear Park; Spire Edge Tower (Gurgaon, Haryana, India); Ganendra Art House (2011, Petaling Jaya, Malaysia) and the Great Ormond Street Children's Hospital Extension (2011, London, UK).
Image source: http://it.archello.com/en/project/digi-technology-operation-centre-0
How can we identify Yeang's style?
He focused his career on designing sustainable structures that were one with nature. He created the bioclimatic skyscraper that has shaped the way architects design skyscrapers around the world. Essentially, he uses the surrounding environment and vegetation to drive design instead of competing with it. His buildings are designed to use natural sunlight to provide both heat and light, to collect precipitation for use in cooling systems, and to use wind patterns to maximize ventilation through unique structural innovations. Ken Yeang also believes that structures must have beauty or they face rejection.
Images source:https://alchetron.com/Ken-Yeang#ken-yeang-530e64af-78c2-4966-ad30-0ca622c48ef-resize-750.jpg
---
Info sources:
http://www.fampeople.com/cat-ken-yeang
https://en.wikipedia.org/wiki/Ken_Yeang
https://landarchs.com/6-famous-green-architects-of-our-time/
http://www.museumofthecity.org/project/ken-yeang-ecology-and-architecture/