Italian industrial design powerhouse Joe Colombo might have been responsible for designing the first-ever modular sofa with his iconic Tube Chair. First manufactured by Flexform in 1969, it's found in many museums all over the world including the Metropolitan Museum of Art and the Vitra Design Museum.
Image source: https://commons.wikimedia.org/wiki/File:%22_12_-_ITALY_-_Tube_Chair_Flexform_-_brown_bicolor_armchair_Triennale_Design_Museum_-_Joe_Colombo.JPG

Italian Design
Joe Colombo (1930-1971) designed "Tube Chair" in 1969, the year after student protests took over streets and squares throughout the West.
Image source: https://search.creativecommons.org/photos/e77b7630-8515-41b6-8d4d-6d114e7ca78d
Italian architect and designer Joe Colombo responded to the changing social conditions of the 1960s by radically reinventing furniture forms and creating innovative interior environments reflecting swiftly evolving modes of living.
Thanks to Italian furniture brand Cappelini, the adjustable chair has been reissued and can now feature prominently in your own living room.
Image source: https://commons.wikimedia.org/wiki/File:Tube_chair_2.jpg
"I didn't want a piece of this importance to remain only on the pages of design books," said creative director Giulio Cappellini. "Instead I wanted it to still be purchased and used today."
The graphic, highly modern chair is made up of four tubes of varying diameter connected by fastening hooks. They form the headrest, back support, seat, and leg rest and can be configured according to the user's preference. At first, Flexform sold "Tube Chair" packaged in a canvas bag similar to the ones used for sleeping bags.
The extremely original armchair he invented – combining four hollow cylinders in PVC, foam rubber, and leather – is proof of the deeply oppositional spirit of the Milanese self-professed "anti-designer". Like many of his fellow artists in Italy and in Europe who gathered under the Radical Design label, and drew inspiration from Pop Art and avant-gardist movements, Colombo used art to express his dissent for mainstream rationalism.
Image source: https://search.creativecommons.org/photos/8d8e4dad-0675-4f37-8e6a-42999f30a33d by Andrea Pavanello, Milano
The modular cylinders that make up "Tube Chair" allow the user to customize the armchair's shape (or join more than one to invent even more imaginative configurations), adapting it to the available space.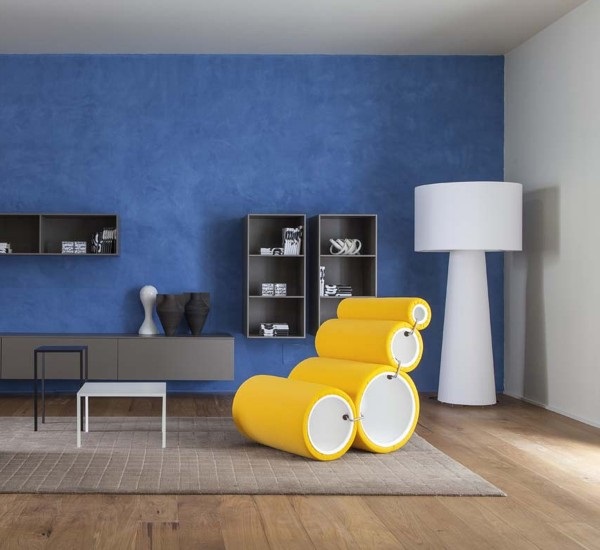 Image source:https://www.mobilcasa-pisa.com/products/seatings/cappellini-tube-chair-7239.html
How is it Made?
Tube Chair is made of four main components, each component is hollowed using rotational moulding technology. New generation manufacturing techniques have kept intact the essence of the original design: metal hooks connect each component together and can also be swapped over to suit different needs (backrest and seat have exactly the same shape). Tube Chair is upholstered in either leather or a bi-stretch fabric available in the following Cappellini colours: black, white, yellow, turquoise or orange.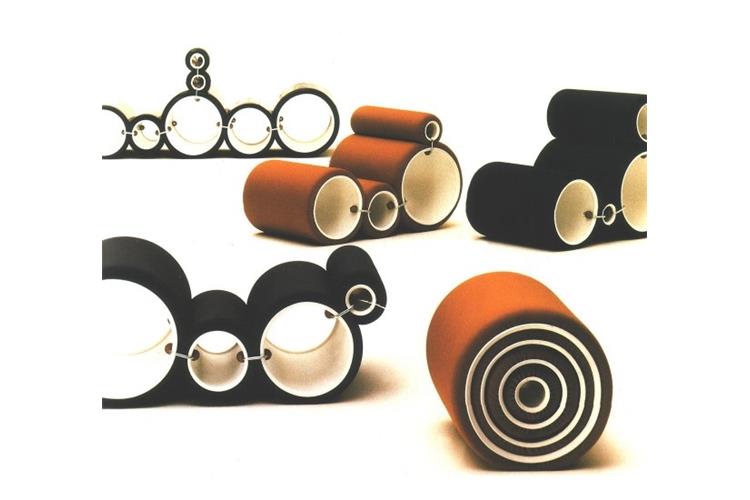 Image source: https://www.mobilcasa-pisa.com/products/seatings/cappellini-tube-chair-7239.html
A Timeless Icon
"Even though it's been a long time since it's initial design, it continues to preserve its freshness and contemporaneity. It was the first modular sofa able to fit every need and still has a very contemporary pop image. […] I have always considered Tube Chair by Joe Colombo a milestone in the history of contemporary design." said Cappellini.
Image source: https://www.cappellini.com/it/installazione-con-tube-chair-a-parigi
Modular, flexible, simple and customizable: Tube is back. The project by Joe Colombo made the history of Italian design and is part of the permanent collections of the Triennale di Milano, Moma and Metropolitan Museum of Art in New York.  Cappellini started producing a new version of the award-winning armchair that this year won the wallpapaer design award 2018.
Data sheet
Designer: Joe Colombo (Italian, Milan 1930–1971 Milan)
Manufacturer: Flexform, (actual manufacture, Cappellini)
Year: 1969–70
Medium: PVC plastic (polyvinyl chloride), tubular steel, rubber, polyurethane foam, synthetic knit upholstery
Dimensions:
Outer dimensions (61 × 49.5 cm)
Outer dimensions (61 × 40 cm)
Outer dimensions (61 × 29.2 cm)
Outer dimensions (61 × 17.8 cm)
Inner diameter (40 cm)
Inner diameter (31 cm)
Inner diameter (19.5 cm)
Inner diameter (9.5 cm)
Mount (6 Original metal clamps): (8.9 × 7 cm)
Image source: https://www.miliashop.com/en/armchairs-chaise-longue/15381-tube-chair-cappellini.html
---
Info source: https://www.curbed.com/2016/8/1/12343896/joe-colombo-tube-chair-cappelini-reissue
Info source: https://www.metmuseum.org/toah/works-of-art/1987.98.1a-d/
Info source: https://www.cappellini.it/en/products/news-2015/tube-chair
Info source: https://magazine.designbest.com/en/design-culture/objects/tube-chair-by-cappellini-the-iconic-chaise-longue-by-joe-colombo/
Info source: http://www.italianways.com/tube-chair-by-joe-colombo-revolutionarys-armchair/