The Ladderback chair was one of the most popular chairs of the 17th- 18th century. It achieved such success by the simplicity of construction, clear design, and affordable price. Today these chairs are coveted items for collectors.
Image source: https://search.creativecommons.org/photos/c80f9c5d-bab4-4aa5-924e-8f14f32f661d by ChalonHandmade
What is Ladderback chair?
Ladderback chair, also known as slatback chair. It got its name from the horizontal slats on the back of the chair that look like the rungs of a ladder. Between straight back uprights, there are usually two to six slats that were perpendicular to each other and were usually turned or rounded on a lathe. They are connected by a groove and a tenon. The classic version features a high back and a wicker seat.
Image source: https://search.creativecommons.org/photos/4b1d777e-c4ea-4e85-9c53-8f285129efad by ChalonHandmade
About it's history
Ladderback chair, have been found in homes throughout Europe since the Middle Ages. By the 17th century, this type of chair had gained immense popularity in England. As a rule, ladderback chairs were made from the common sycamore or maple. By the middle of the 17th century, luxury furniture manufacturers also took notice of this chair and began to make it from walnut and add exquisite decorations and engravings.
Image source: https://www.collectorsweekly.com
Ladderback chair, became a staple in homes throughout colonial America. Its popularity skyrocketed after the Protestant Reformation, as the chairs were of a simple style that was prized by early Protestants. It was quick and easy to do. It served as a dining chair, sitting chair, and bench. In the second half of the 19th century, the popularity of simple ladderback chairs declined due to the emergence of the Victorian style.
In 1908, the Metropolitan depository of Art nonheritable a ladderback chair for its assortment, that was thought of a peasant chair and dates from the 17th and 18th centuries.
Image source: https://www.collectorsweekly.com/articles/slat-back-chairs-in-europe-and-america/
Who were the Shakers
The Shakers are the United Society of Believers in the Second Coming of Christ, famous for their furniture, and especially for their chairs. In addition to the famous ladderback chair, they also made other models, including the Windsor style chair and the revolver swivel chair. The largest and most influential Shakers community was founded in New Lebanon, New York in 1787 which remained active until 1947, according to the Metropolitan Museum of Art in New York, which holds a large collection of Shaker furniture and furnishings for houses.
Image source: https://search.creativecommons.org/photos/7b77f1ae-9f88-433a-b259-4506982c9db4 by Ed Bierman
Foreign adornments and elements that imparted comfort were considered inappropriate due to the Shakers' rigid religious beliefs. This type of furniture, according to Hidde Halbertsma's Encyclopedia of Antiques, "has strong geometric lines with simple surfaces and functionality". The talent of the Shakers is mainly due to simplification and improvement. They removed "all tricks and ornaments" to design furniture that met basic needs quite well.
Production
It could withstand the rough handling of that era when there were many wars and migrations. It was designed in a way that utilized the tools, materials, and knowledge that existed at the time. Whereas timber was plentiful, woodworking machinery was limited or nonexistent. It was probably hard work at the time to produce a single ladder back chair, but the people of that time were very patient. Each rung of the ladder would, painstakingly, be made to perfection, by hand. The mortise and tenon joints would then be meticulously made and assembled. They were made of different kinds of hardwoods and that is why many have survived till today.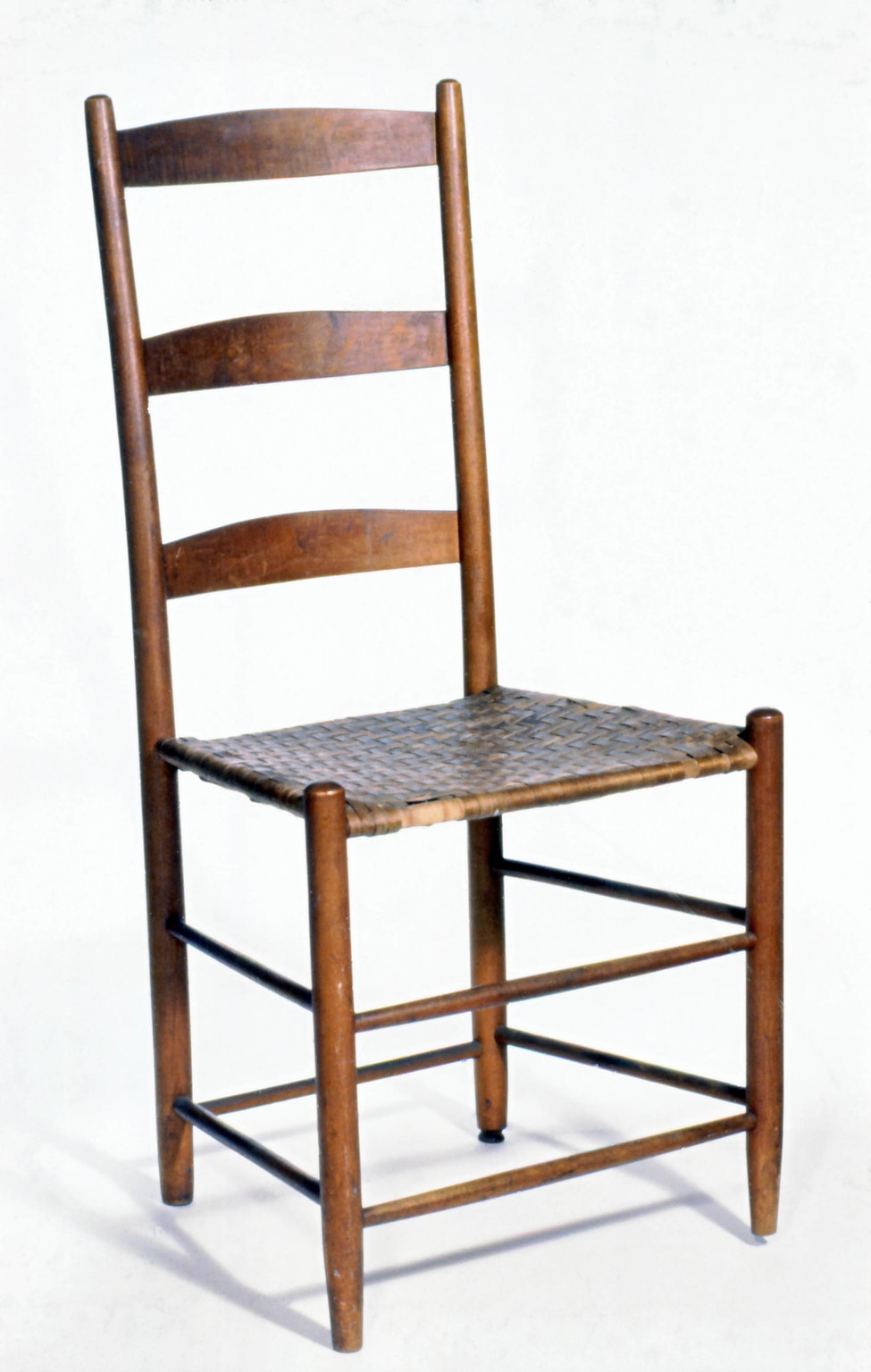 Image source: https://search.creativecommons.org/photos/f7c46973-8b76-4280-8159-cd8845ccf399
Ladderback chairs were simple in construction. They were not made to stand out from the rest of the furniture. They had many practical uses ranging from; sitting on, stepping on, to using as a rig to hang newly made candles. Due to the limited variety of furniture at the time, these chairs were quite handy to have around the house. They occupied little space owing to the small seat area they had. Also, thanks to the ladder-like back, they were easy to carry around by simply tucking the back under the arm and clasping one of the lower rungs.
Image source: https://search.creativecommons.org/photos/3560d948-c5a3-4097-8609-d63c86a91c90 by ChalonHandmade
Ladderback chairs used such a little amount of materials that, so many could be made from only a little wood. A popular version of a ladder back chair was the rocking chair. This was widely used and a big number of ladder backs were rocking chairs. Almost any movie set at that time would have a ladder back rocking chair on the set. They had a nostalgic effect on the older folk, and with good cause. Even in all their simplicity, Ladderback chairs are rather good-looking. It is for this reason that they have been around for ages and yet, they never lost their appeal. They are still being built in workshops across the world.
---
Info sources:
http://www.selfgrowth.com/articles/ladder-back-chairs-furniture-or-piece-of-history
https://en.wikipedia.org/wiki/Ladderback_chair
https://www.thespruce.com/shaker-chairs-furniture-style-148405