Victor Horta was one of the leading architects and designers of Art Nouveau and his style has inspired many modernist artists throughout Europe. He also influenced the aesthetic ideals of a group of avant-garde artists in Belgium such as Les Vingt and La Libre Esthétique.
Image source: https://www.famous-architects.org
About his life
Victor Horta was born in Ghent, Belgium on January 6, 1861. At the Ghent Academy of Fine Arts, he studied design, architecture, textiles, and drawing. Horta began its architectural practice in 1885 and attracted great attention to his series of houses with elaborate designs and unique features. Victor Horta influenced the birth of Belgian Art Nouveau Style, together with fellow architects Henry van de Velde, Paul Hankar, and jeweler Philippe Wolfers. During his career he had positive reviews, however, Horta's reputation was heavily criticized after modernity went out of style. He met with public disapproval due to the excessive decoration and decoration of its buildings. Victor Horta died in Brussels, Belgium on September 8, 1947.
Image source: commons.wikimedia.org
About his style
His style was clearly inspired by nature and was dominated by exquisite curly forms of plant motifs. Materials, shapes, and ornaments are harmoniously combined into a single whole, elegantly emphasized by innovative shapes and lines. Houses are especially important for their interior architecture: irregularly shaped rooms freely flow into one another at different levels, the natural design of the iron balustrade echoes, the curved decorative motifs of mosaic floors or stucco walls.
Image source: https://aasarchitecture.com
The Belgian Art Nouveau architecture created by Victor Horta was characterized by organic forms. This trend later gave rise to revolutionary ideas and laid the foundation for modern architecture and design. Plant forms and sensual double curves later called the "Belgian line". Their peculiarity is that they have been adapted to every detail of the building, from the basic structure to the whole interior decoration elements such as colored window panes, lamps, wooden furniture, wrought iron, and metal structures, door handles, and even a bell. Horta's very popular linear design today has inspired many modern silver and glass products, decorative objects, and jewelry.
Image source: https://www.designartmagazine.com
What are his major works?
Tassel House(1893) is the first independent building. It was one of the earliest continental examples of Art Nouveau. An important feature was the octagonal hall, with stairs leading to different levels. The curved line, characteristic of the Art Nouveau style, is used both on the facade and in the interior;
Maison Frison, Brussels (1894);
The Maison du Peuple in Brussels (1895–1899) was his main work. It is the first building in Belgium to have a façade made of iron and glass. In the auditorium, the iron roof beams are used for constructive and decorative features;
Hôtel Solvay, Brussels (1895-1900);
Hôtel Van Eetvelde, Brussels (1898);
Maison Horta, Brussels (1898);
Waucquez Department Store, Brussels (1903);
Wolfers Building, Rue d'Aremberg 11-13, Brussels (1909);
Palais des Beaux-Arts, Rue Royale 10, Brussels (1920)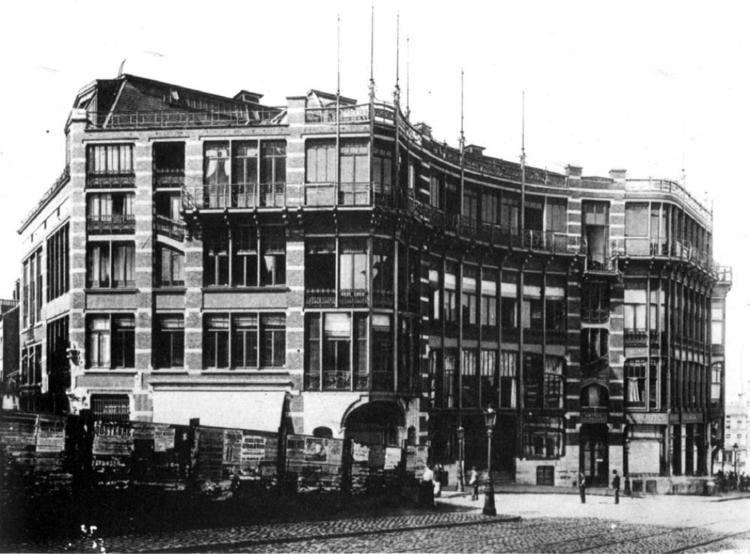 Image source: https://alchetron.com/
Four of his private houses (hôtels), were designated as a UNESCO World Heritage Site:
House Tassel in Bruxelles (1893);
House Horta in Bruxelles (1898);
House Solvay (1895);
Maison du peuple (1895, destroyed).
Info sources: en.wikipedia.org www.britannica.com www.senses-artnouveau.com
please also visit: www.jbdesign.it