The High Back Chair was designed in 1904 by the Austrian artist, architect, and designer Josef Hoffmann, as part of the Arts and Crafts movement.
About

High Back Chair
The High Back Chair executed by Wiener Werkstätte depicts is a very simple design object, characterized by a high back, with strips from the smooth surface that forms linear geometries. This chair demonstrates a rational simplification of forms. Yet, at the same time, the grid of squares piercing the rectangular back splat illustrates the fusion of decorative and structural elements typical of the Wiener Werkstätte.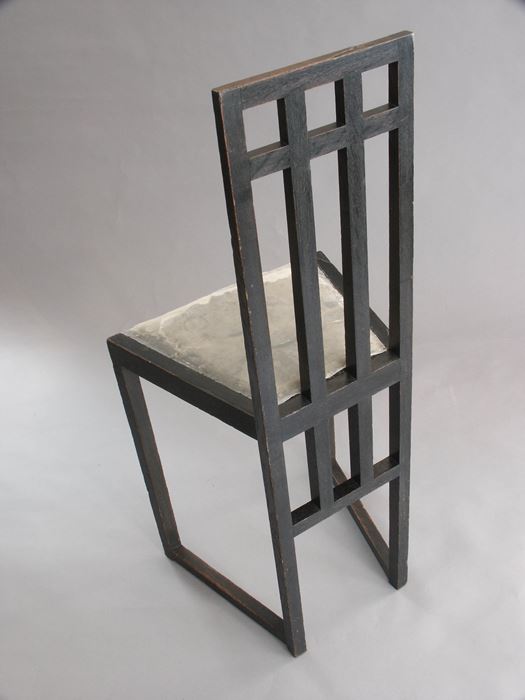 A chair as an art masterpiece
The Wiener Werkstätte was a production community of visual artists bringing together architects, artists, and designers established in 1903 by Josef Hoffmann, Koloman Moser, and Fritz Waerndorfer in Vienna, Austria. In this community were created many everyday objects which were elevated to some art objects, like the High Back Chair.
Hoffmann's designs embraced the beauty of geometry in pieces that feature grids and angular forms. Hoffmann considered everything he created work. With the High Back Chair, he brought to the domestic and built environment a new level of elegance and simplicity.
Image source: https://www.secessions.com
Data sheet
Date: 1904
Period: 20th century
Materials: Oak, oak veneer, beech and deerskin seat
Dimensions: 114.5 x 49.5 x 41 cm (45¹/₈ x 19¹/₂ x 16¹/₈ inches)
Manufacturer: attributed to Johann Soulek for the Wiener Werkstätte, Vienna
Exhibitions: "Yearning for Beauty for the 100th Anniversary of the Wiener Werkstaette", MAK, Vienna, 2003-04.
Info sources: www.moma.org  www.neuegalerie.org