The Taliesin Origami Chair is a chair designed by Frank Lloyd Wright in 1949, depicts one of the most coveted of his furniture designs.
INTERACTIVE VIEW (Click and Drag)
Download the 3d model: https://www.turbosquid.com
Why is it special?
Frank Lloyd Wright designed Origami chair for the Garden Room of his  residence at Taliesin West, Scottsdale, Arizona on 1949. This unique and ergonomically comfortable upholstered armchair was designed to be fabricated from a single sheet of laminated plywood. It was designed to be constructed out of only a single sheet 4 foot x 8 foot of plywood.
Taliesin Origami Chair was produced by Italian company, Cassina (which fabricated a limited edition of Wright's design in the 50's).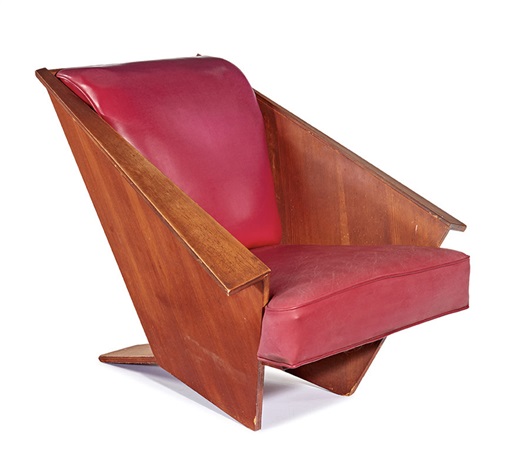 Source image: http://www.artnet.com
Taliesin West
Today Taliesin West is the main campus of the Frank Lloyd Wright School of Architecture, which houses the Frank Lloyd Wright Foundation. The walls of the building are made of rocky rocks of the local desert, poured with concrete, laid in wooden forms. Wright has always preferred to use locally available, readily available materials over those that would have to be ordered with delivery.
Frank Lloyd Wright's personal touch is in every detail of Taliesin West. Taliesin West is the headquarters of the Frank Lloyd Wright Foundation and the winter home for the School of Architecture.
Info source: en.wikipedia.org
Source image: https://www.inexhibit.com
How is it made?
The chair was constructed out of only a single sheet 4 foot x 8 foot of plywood. It consists of a composition of geometric shapes: trapezoidal inner / outer side panels and triangular armrests and legs. Materials include (interior and exterior) cherry veneer plywood and fabric cushions; copper footboards.
Image source: https://franklloydwright.org
Data sheet
Designer: Frank Lloyd Wright
Year: 1949
Manufacturer: Cassina
Dimension:

77.4x 104.3 x 93 cm

Materials: Structure in beech plywood with cherry wood veneer, natural or stained black oak, seat and backrest in polyurethane foam, upholstery in leather or fabric from the Cassina Collections.
Image source: https://www.pinterest.com
Info sources:
For more references, please also visit: www.jbdesign.it