Frank Lloyd Wright impressively developed his principle of "Organic Architecture" with his 1900 "Prairie Houses", which were practical examples of unity of natural environment, exterior and interior design.
INTERACTIVE VIEW (Click and Drag)
3d model: https://www.turbosquid.com
---
A chair as part of a house
Frank Lloyd Wright designed this high-back chair for the dinnig room of the Frederick C. Robie House. Chairs with high backs arranged around the table separate the dining area from the rest of the room and create a cozy feeling. Such a type of chairs was common piece of furniture used for Prairie house interiors. Among important details of design of the Robie House chair, there are not only very high backs striking, but also the legs of the chairs that gently curve, softening the rigor of the geometric design.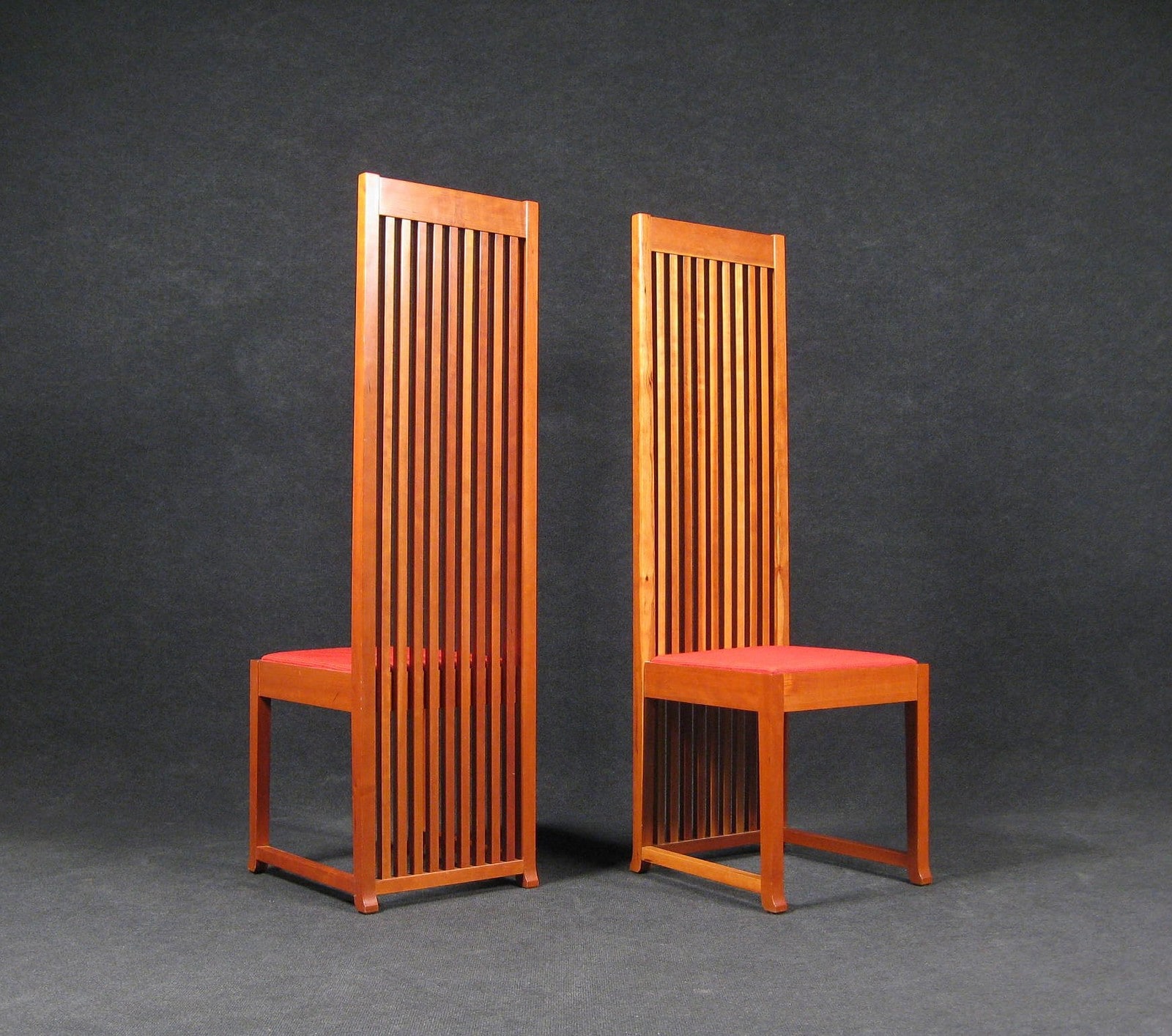 Image source: https://www.lauritz.com
Frederick C. Robie's house is located on the University of Chicago campus in the southern Hyde Park neighborhood of Chicago, Illinois. The building was built between 1909 and 1910 and is known as the greatest example of the Prairie School style, the first architectural style considered exclusively American. Robie House has been nominated a National Historic Site of the United States.
Image source: https://franklloydwright.org
Robie House is one of the most famous examples of Frank Lloyd Wright's Prairie architectural style. The term was coined by architectural critics and historians who have noted that buildings and their various components owe their design influence the landscape and plant life of the prairie of the US Midwest. Like most of Wright's Prairie houses, he designed not only the house, but all the interiors, windows, lighting, carpets, furniture, and fabrics. As Wright wrote in 1910: "It is absolutely impossible to regard a building as one and its furnishings as another … These are all just structural details of its character and completeness."
Image source: https://www.metmuseum.org
A total work of art
Frank Lloyd Wright's ideology focused on the complete integration of the house-site and structure, interior and exterior, furniture, ornament and architecture, every element of the design was connected. He designed oak furnishings with straight lines and rectilinear shapes in the tradition of traditional arts and crafts for strength and simplicity. In the early 1890s, as Wright was working to define his vision for new American architecture, he began designing furniture for his Oak Park house. Between 1890 and 1895, built-in window seats and two sturdy oak armchairs were designed for the living room by the English artist and designer William Morris.
Image source: https://www.enjoyillinois.com
For the dining room Wright further integrated furniture and lighting. The dining table and eight high back chairs created for the dining room of the home are revolutionary for the time. Defined by an overriding verticality and simplicity the suite of furniture marks a clear step toward a new aesthetic in Wright's designs. The furniture forms an intimate secondary space in the room, the table shielded by the high backs of the dining chairs.
Image source: https://it.pinterest.com
601 Robie 1, Cassina
Designed by Frank Lloyd Wright in 1908, this chair was re-edited by Cassina in 1986 and included in the "Cassina I Maestri" Collection. 601 Robie 1 chair for Cassina is produced in natural cherrywood, cherrywood stained walnut or black, or in natural canaletto walnut. Seat upholstery in polyurethane foam and covered with fabric or leather.
Image source: https://www.cassina.com
Data sheet:
Designer: Frank Lloyd Wright
Year: 1908 (re-edited in 1986)
Manufacturer: Cassina
Dimension: w. 40 x d. 45,5 x h 133,5 |hs 46 cm
Materials: chair in natural cherrywood, cherrywood stained walnut or American walnut finish. Seat upholstery in polyurethane foam. Fabric or leather upholstery.
Image source: https://www.cassina.com
Info sources: