The Coonley Chair was designed in 1907 by the american architect and interior designer Frank Lloyd Wright especially for Avery Coonley House.
INTERACTIVE VIEW (Click and Drag)
3d model: https://www.turbosquid.com
"For man, wood is universally beautiful. Man loves the close bond he has with wood, and he wants to feel it in his hands, pleasant to the touch and to the eye."
Wright's Philosophy
Strongly influenced by the British Arts and Crafts movement, Frank Lloyd Wright did not advocate standardised, functional furniture, but rather designed each item for a unique interior, use and client. His furniture like the Coonley Chair with Wright's typical uprights was more structurally and functionally innovative.
Source image: shop.classicdesignitalia.com
Throughout his life, Frank Lloyd Wright had an abiding interest in the natural world, and the materials he chose for his furniture often reflected that interest. In the Coonley House chair, the long, flowing grain of the oak serves as a rich counterpoint to the chair's rather spare, geometric form.
In the Coonley Chair, Wright preferred the natural qualities and authenticity of wood, with the use of a complete harmony of lines and spaces, later celebrated all over the world as "organic architecture".
Image source: https://www.cassina.com/it
Coonley House
Wright designed this chair for the Avery Coonley House, also known as the Coonley House. This residential complex of several buildings built in 1908-12 is a National Historic Landmark. It was built on the banks of the De Plane River in the historic Riverside, Illinois, suburb of Chicago.
Image source: https://franklloydwright.org
Coonley House exemplifies Wright's Prairie style, with wide overhanging cornices, stripes of art glass windows, flowing interior spaces and a harmonious blend of space and structure.
Source image: hookedonhouses.net
Materials
The Coonley chair has a back  in natural cherrywood, stained walnut or black. Seat cushion padded with polyurethane foam and upholstered in leather or fabric.
The chair is available in two versions: with a low or high backrest.
Source image: www.matisse.co.nz
Which are its dimensions?
Coonley 1 Chair
43 x 47 cm
Height: 70 cm
Height seat: 46 cm
Coonley 2 Chair
43 x 47 cm
Height: 94 cm

Height seat: 46 cm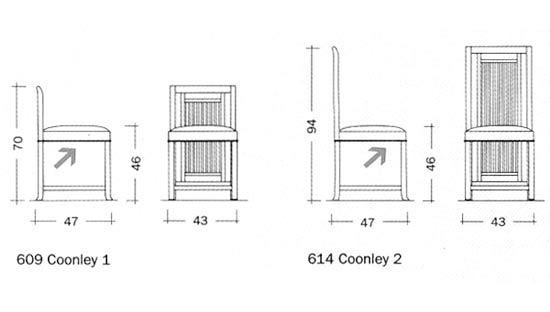 Image source: https://www.architonic.com
Info sources:
For more references, please also visit: www.jbdesign.it