LC (the initials of its creator, architecture celebrity Charles Jeanneret, better known as Le Corbusier) Collection is a furniture line, born of the architect's first foray into interior design, introduced in 1928 at the Salon d'Autumne in Paris by Le Corbusier and his team of designers.
Image source: https://www.smow.de/pics/ca-002-000/desc/ca-lc2sessel-designer-ds.jpg
Le Corbusier
Despite Le Corbusier's reliance of ready-made furniture to refurbish and accompany his project, usually entrusting this role to the simple, modern pieces manufactured by Thonet (the same company responsible for developing his project), this had changed by 1928, when he first began experimenting with interior and furniture design, together with his cousin, Pierre Jeannaret, and most importantly with fellow architect Charlotte Perriand, whom he invited to join his studio in order to collaborate on this new approach.
By the same year, the duo had began putting into practice the ideas Le Corbusier had first outlined in his design book, written in 1925, "L'Art Décoratif d'aujourd'hui" (meaning "The Decorative Art of today"); above all, he'd classified and subdivided furniture pieces in three main types: type-needs, type-furniture, and human-limb ombjects.
Regarding this last category, he defined them as:
Extensions of our limbs and adapted to human functions that are type-needs and type-functions, therefore type-objects and type-furniture. The human-limb object is a docile servant. A good servant is discreet and self-effacing in order to leave his master free. Certainly, works of art are tools, beautiful tools. And long live the good taste manifested by choice, subtlety, proportion, and harmony.

– Excerpt from "L'Art Décoratif d'aujourd'hui"
Image source:https://search.creativecommons.org/photos/aa085a08-aa78-4293-ae84-19e66a79eff8 by 準建築人手札網站 Forgemind ArchiMedia
The first results of the collaboration arrived soon: three chrome-plated, tubular steel chairs, designed to fit two of the Swiss architect's projects, The Maison la Roche in Paris and a pavilion commissioned by Barbara and Henry Church. The line of furniture was further expanded in occasion of Le Corbusier's 1929 Salon d'Automne installation, "Equipment for the Home".
Image source: https://www.smow.com/en/manufacturers/cassina/lc-collection/lc2-armchair.html
LC Series
LC1: A direct answer to traditional furnishings, perceived by Le Corbusier as obsolete and relic-like, the sleek, stripped down tubular shapes of the LC1 created a stark contrast to the suffocating wads of padding and upholstery permeating the furniture trends of the time. Designed in 1928 and soon coming to be regarded as a classic of modern design, the chair is notable for the structure of its back, attached to the frame via a rod, thus allowing the recline's tilting angle to change as the user shifts from a sitting position to another, offering continuous comfort and optimal support. Complemented by a natural hide lining, offering "sensual warmth" to the cold purity of the steel tubes, this piece perfectly encapsulated the sleek "functional elegance" of Le Corbusier's "equipment de l'habitation".
Image source: https://www.smow.com/en/manufacturers/cassina/lc-collection/lc1.html
LC2: The LC2 and LC3 Collections (1928), ironically referred to by its creators as "cushion baskets", came to be as a modernist response to traditional club chairs. Its most iconic feature, the reversal of an abitual sofa structure, putting the metal supports outside of the cushions, ending with thick, resilient leather pads resting atop minimal steel frames; the aim was to provide the same comfort of a regular padded surface, combined with the industrial, elegant aestethic of the modernist International Style, a choice that ensured the design would still remain relevant even decades later.
Image source: https://www.smow.com/en/manufacturers/cassina/lc-collection/lc2-armchair.html
LC4: Designed in 1928, the LC4 Chaise Longue (or "long chair" in English) was dubbed the "relaxing machine" because of how it mirrored the body's natural curves, while appearing to float above its steely supports. The design's main feature was the seemingly unlimited number of sitting angles poses accomodated by the LC4, as the moving frame adjusts itself to better suit the user, from an upright position to a fully reclined one. Today, the LC4 is part of the permanent collection at the Museum of Modern Art in New York.
Image source:https://search.creativecommons.org/photos/718a3bce-a7ef-429c-a275-4626a8ea2a04 by Tim Evanson
LC6: The ethereal, yet bold, LC6 Table (1928) saw first the light in 1929, at the Salon d'Autumne in Paris, where Le Corbusier and his team's revolutionary collection left the city – and the design world at large – stunned. Made in aeronautical steel, the base is welded for a seamless finish with sculpted angles and smooth, mitered corners. The tabletop is a 0.6-inch-thick rectangle of Italian glass, making the LC6 equally feasible as a dining table or in a conference room. Together, these elements provide an unsurpassed sense of line, scale and proportion, the end result being a a mathematically refined structure of glass and steel that still acts as an high point of the International Style and 20th century design as a whole.
Image source: https://www.smow.com/en/manufacturers/cassina/lc-collection/lc6-table.html
LC8: The LC8 Swivel Stool (1928) is the result of a long line of experiments, beginning with an attempt to fashion a chair by wrapping inner tubes from tires around a steel frame. As each trial became more refined than the preceding one, a clear vision started taking form. The final model, LC8, consists of a round, thickly padded seat atop a curving claw-like vase of tubular steel, conjoined by a swivel mechanism evoking a buoyant look.
Image source: https://www.smow.com/en/manufacturers/cassina/lc-collection/lc8-swivel-stool.html
LC Collection
LC3 – Grand confort, grand modèle referred as Cushion Baskets (1928)
LC5 – Sofa Bed
F – Canapé
LC7 – The Swivel Chair(1928)
LC9 – Bathroom Stool
LC10 P – Rectangular Low Table
LC11 P – Table
LC12 – Table designed in 1925 for Villa La Roche
LC13 – Fauteuil Wagon Fumoir
LC14 – Tabouret (1952 – 1959) (Tabouret LC14.01, Tabouret LC14.02)
LC15 – Table De Conférence
LC16 – Table De Travail Avec Rayonnages
LC17 – Portemantea (1957)
LC19 – Table Esprit Nouveau
The design team
Widely considered one of the most influential architects of the 20th century, Le Corbusier (born Charles-Édouard Jeanneret-Gris) is credited with revolutionizing the face of modern urban architecture, updating it to fit into the technological age; as a result, his legacy translates into a strong, if utopian, sense of purpose, to meet the needs of a democratic society dominated by the machine.
Modern life demands, and is waiting for, a new kind of plan, both for the house and the city

– Le Corbusier, 1923
Le Corbusier combined a passion for classical Greek architecture with attraction to the modern engine, publishing his ideas in a book entitled "Vers une Architecture", in which he refers to the house as a "machine for living," an industrial product that should include functional furniture or "equipment de l'habitation." The LC Collection furniture line, birthed in the new rue de Sèvres atelier with his cousin and close collaborator (since 1922) Pierre Jeannaret, was meant to launch a new rationalist aesthetic, that would come to epitomize the International Style.
Image source: https://www.smow.com/en/manufacturers/cassina/lc-collection/lc8-swivel-stool.html
Image source:https://search.creativecommons.org/photos/45a91bd8-032c-4d0d-a46d-a83d1a1ab14d by Harvinder Chandigarh
In October 1927, the pair decided to draw on the contribution of a young architect who had already begun to establish a strong reputation in the architectural scene of the time: Charlotte Perriand. Their partnership, lasted until 1937, proved to be extremely fruitful, both in terms of the cultural weight of their achievements and their professional successes. It was together with Charlotte Perriand that the pair tackled the innovative project for "l'équipement de la maison", and thanks to Cassina's ongoing interest, a golden standard for elevated concepts and high resulting quality was mantained, rendering the final results very sought after even today.
Made in Cassina
In the 1960s, the "Cassina I Maestri" collection reissued classic, highly prized furniture of the preceding decades, compounding the original designs with an intense, in depth analysis of its meanings and aims.
Drawings, sketches, prototypes and every other available related document, whose exclusive access to was held by Cassina alone, were closely studied, subsequently helping to enstablish contact and cooperation with the heirs of the original designers.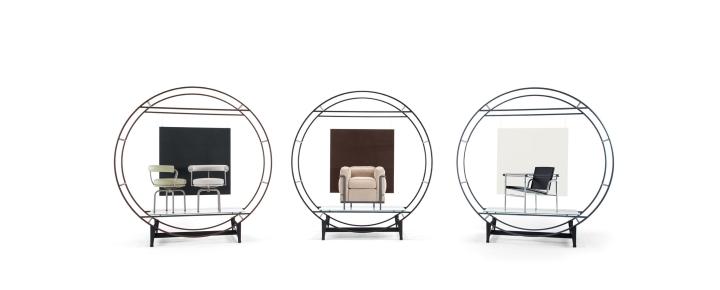 Image source: https://www.smow.de/pics/ca-009-000/desc/ca-lc-produktfamilie-ds.jpg
Thanks to this, it was now possible for Cassina to revisit these products with all new editions, perfectly reflecting the originals' vision while at the same time updating them with innovative technologies and materials. A further benefit to this end was the collaboration with Filippo Alison in 1972, undertaking a strict methodology to fully bring out the finesses and details of each original author and associated design.
The collection is fully monitored by the Fondation Le Corbusier and the heirs of Charlotte Perriand and Pierre Jeanneret.
---
Info sources:
https://www.cassina.com/en/lc-collection/history/made-in-cassina
https://en.wikipedia.org/wiki/Le_Corbusier%27s_Furniture
http://www.dwr.com/living-lounge-chairs/lc1-sling-chair/5743.html?lang=en_US
http://www.dwr.com/living-lounge-chairs/lc2-petit-modele-armchair/4026.html?lang=en_US
http://www.dwr.com/living-lounge-chairs/lc4-chaise-longue/6515.html?lang=en_US
http://www.dwr.com/dining-tables/lc6-table/5014.html?lang=en_US
http://www.dwr.com/living-ottomans-benches-stools/lc8-swivel-stool/4052.html?lang=en_US
http://www.dwr.com/designer-le-corbusier?lang=en_US