---
The Red and Blue Chair is a chair designed in 1918 by Gerrit Rietveld. It represents one of the first explorations by the De Stijl art movement in three dimensions.
Image source: https://search.creativecommons.org/photos/f8ec4976-ea4a-4ccf-8699-0c9bca4af6d6 by DocinhoLelê
Serialized artisanship
In the Red and Blue Chair, Rietveld manipulated rectilinear volumes and examined the interaction of vertical and horizontal planes, much as he did in his architecture. Although the chair was originally designed in 1918, its palette scheme of primary colors (red, yellow, blue), plus black, is closely associated with the De Stijl group, as well as its most famous theorist and practitioner Piet Mondrian, applying it around 1923. Hoping that much of his furniture would eventually be mass-produced rather than handcrafted, Rietveld aimed for simplicity in construction: this can be observed in the very pieces of wood that comprise the Red and Blue Chair, which are in the standard lumber sizes readily available at the time.
Image source: https://search.creativecommons.org/photos/3fa24286-e8b1-4ad7-8677-539eca86c7b9 by Cea.
The Museum of Modern Art, currently housing the chair in its permanent collection as a gift from Philip Johnson, states that the red, blue and yellow colors were added around 1923.
The Rietveld philosophy
Rietveld and his colleagues in the De Stijl art and architecture movement sought to create a utopia based on a harmonic human-made order, which they believed could renew Europe after the devastating turmoil of World War I. New forms, in their view, were essential to this rebuilding. The chair, with its orthogonal lines and weightless, almost flat volumes, aimed to evoke this very minimalist, quasi-ascetic balance.
The chair, despite having been created previously in unrelated circumstances, ended up being a companion piece of sorts to Rietveld's other famous creation: the Schröder House (built-in 1925). Placed at its center, almost like a heart of sorts, the chair complements the house's lines – its spacial freedom, its sleek geometries, its colors, and intersections – their union reflecting the De Stijl style permeating their inception.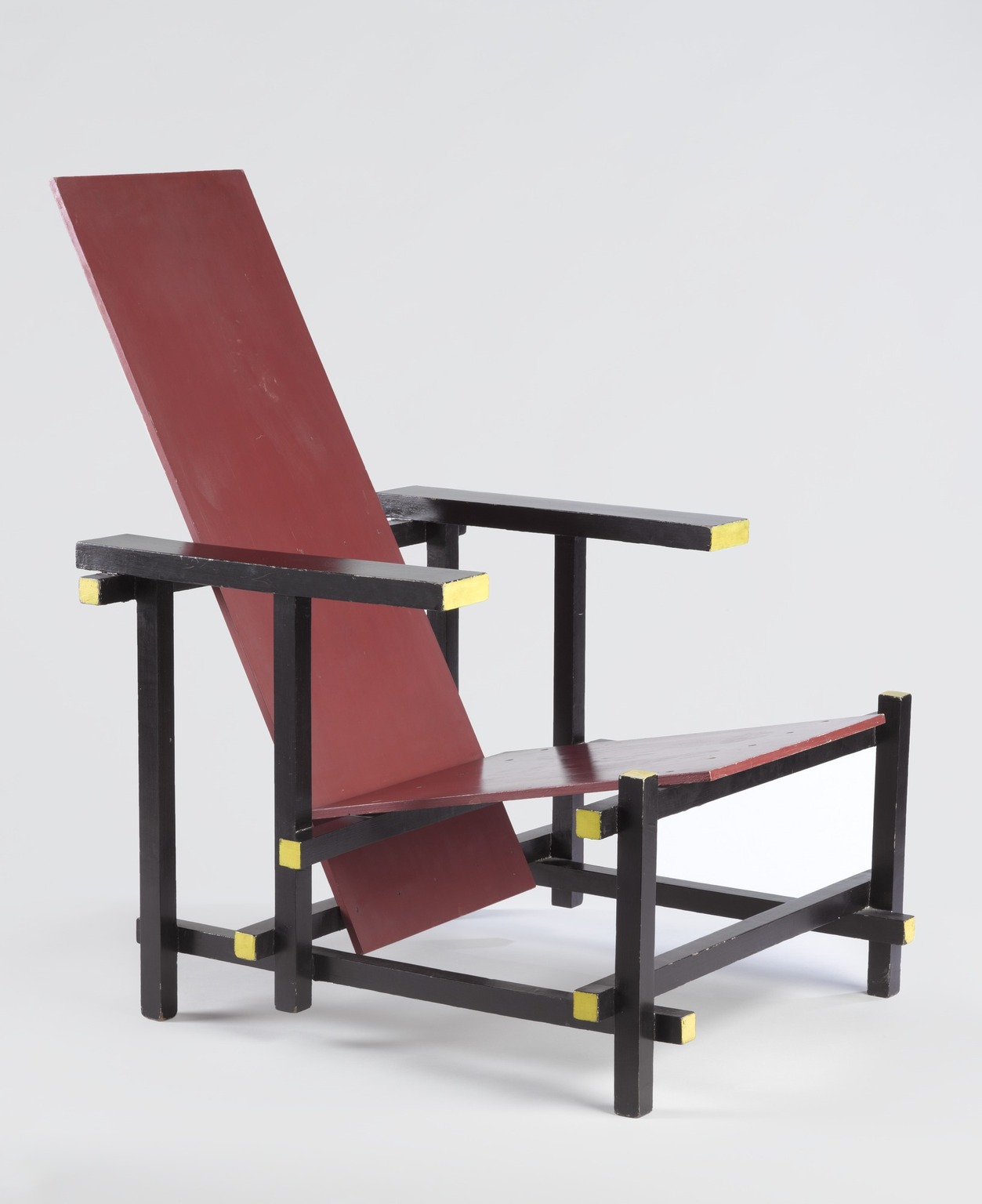 Image source: https://search.creativecommons.org/photos/0f99552f-4080-4314-a588-320b08508f88 by Gerrit Th. Rietveld
How was the Red and Blue made?
The Red and Blue Chair consists of straight boards and battens, the seat is lacquered blue and the back red. The cut surfaces of the frame battens are yellow, with the battens themselves being black. The effect of this color scheme made the chair seem to almost disappear against the black walls and floor of the Schröder House (1924) where it was later placed. The areas of color appeared to float, giving it an almost transparent structure.
Gerrit Rietveld himself seems to have viewed his chair as a work of art since he called it a "spatial creation", designating a sculpture in space, rather than a piece of furniture. The Red and Blue Chair was shown in the journal De Stijl and was also exhibited in a show mounted by the Bauhaus, where it made quite an impact.
Image source: https://search.creativecommons.org/photos/b6b4e9d5-7dc9-413b-8195-435dc776cc1c by neil cummings
---
Info sources:
www.gerrit-thomas-rietveld.com
For more references, please also visit: www.jbdesign.it/idesignpro