"White is the most wonderful color because within it you can see all the colors of the rainbow. The whiteness of white is never just white; it is almost always transformed by light and that which is changing; the sky, the clouds, the sun and the moon." Richard Meier.
Image source:https://search.creativecommons.org/photos/e6cb2105-b0a9-4383-80ad-868fc846f2f5
---
About his life
Richard Meier (born October 12, 1934) is an American abstract artist and architect, stylistically charachterized by geometric designs and making prominent use of the color white. A winner of the Pritzker Architecture Prize in 1984, Meier has designed several iconic buildings including the Barcelona Museum of Contemporary Art and the Getty Center in Los Angeles.
Image source: https://search.creativecommons.org/photos/aaacc423-b506-487e-b501-e749582127e2 by dalbera

His early experience included work with the firm of Skidmore, Owings and Merrill in New York City. and would work with Marcel Breuer; by 1963, Meier'd form his own firm. Early on, he received critical acclaim for the Smith House (1965–67) in Darien, Connecticut, the first of his so-called white buildings, which clearly built upon the pristine Modernism of Le Corbusier's work in the 1920s and '30s.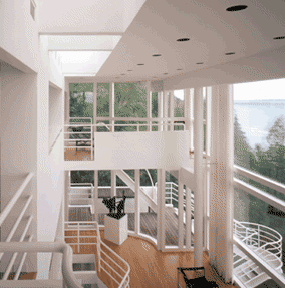 Images source: https://usmodernist.org/meier.htm
He received more attention for his Douglas House (1971–73), an archetypal example of his work, located in Harbor Springs, Michigan. Like much of his work, it features intersecting planes, and, in its crisp geometric whiteness, it provides a sharp contrast to the natural setting that surrounds it.
What are the main features of Meier's style?
Richard Meier has over the years developed his own distinctive and dynamic style of architecture, leading him to become one of America's most influential and widely emulated architects. His work celebrates natural light and space in response to the environs in which it stands, thereby creating sublime spaces of aesthetic illumination and enlightened cultural values.
Image source: http://architecturalmoleskine.blogspot.com/2010/10/richard-meier-jubilee-church.html
Image source: https://search.creativecommons.org/photos/fb858194-a53d-45b6-ae1e-ad29375a1ce9 by pushypenguin
Image source: https://search.creativecommons.org/photos/f3a3a527-19df-4577-a96d-de358df7a6b6 by pushypenguin
What are his most famous creations?
The Ara Pacis Augustae, Rome, 1995 – 2006.
The Barcelona Museum of Contemporary Art, Barcelona, Spain, 1995.
City Tower, Prague, Czech Republic, 2008.
The Des Moines Art Center, Des Moines, Iowa, USA, 1948.
The Getty Center, Los Angeles, California, 1997.
High Museum of Art, Atlanta, 2010.
Hartford Seminary, Hartford, Connecticut, USA, 1981.
Jubilee Church (Chiesa di Dio Padre Misericordioso), Tor Tre Teste, Rome.
Image source: https://search.creativecommons.org/photos/ba245050-3a78-4710-9665-0c583c77beed by 準建築人手札網站 Forgemind ArchiMedia
---
Info sources:
https://en.wikipedia.org/wiki/Richard_Meier
https://www.ranker.com/list/richard-meier-buildings-and-structures/reference
http://www.archdaily.com/316296/richard-meier-celebrates-fifty-years-of-architecture