German industrial designer based in Milan, Italy, Sapper is considered one of the most important designers of his generation. His products always display a combination of technical innovation, simplicity of form and an element of wit and surprise.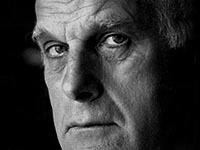 Image source: https://www.finnishdesignshop.com/Richard_Sapper-d-731.html
---
Early career
After a short period in Mercedes-Benz's styling department, in 1958 he made a life-changing move to Milan – the heartland of progressive design at the time. Brief spells in the office of Gio Ponti and the design department of the Rinascente department store were followed, in 1959, by a highly productive partnership with the Italian designer Marco Zanuso: it lasted for 18 years, on and off, and resulted in such seminal designs as the little Doney television set (1962) and the TS502 radio (1965) for Brionvega, an Italian firm that transformed the appearance of such objects for all time.
Image source: https://search.creativecommons.org/photos/68237ebf-137f-406c-98dd-d345633be548 by dr vaxon
Thanks to Sapper and Zanuso, for the first time household electronic devices became pieces of sculpture, at home in the chic modern Italian domestic environment that made such an impact across the globe. The partnership produced a number of other key designs, from the Grillo telephone, the first with a flip-down mouthpiece, to a child's plastic stacking chair for Kartell, which formed part of the family of Italian plastic chairs from the period, produced by Vico Magistretti, Joe Colombo and others, that magically made the material look elegant and sumptuous rather than cheap and nasty. Sapper photographed the Kartell chair with his daughter Carola sitting on it.
New studio and major collaboration
Upon starting his own independent studio in 1959, Sapper designed the Static table clock for Lorenz, which won him the first Compasso d'Oro prize and is still in production today. In 1972, Sapper designed the Tizio lamp for Artemide, one of the first desk lamps using halogen bulbs with low-voltage current conducting arms to eliminate the need for wires. The Tizio remains one of the best-selling lamps ever produced.
Image source: https://www.finnishdesignshop.com/lighting-table-lamps-desk-lamps-tizio-table-lamp-p-16038.html
Sapper continued to create design classics including the Sapper Office Chair series for Knoll in 1979, a series of stop watches for Heuer in 1976 and the Nena folding chair for B&B Italia in 1984. In 1978, Alessi commissioned Sapper with the first product in a long series to come, the stove-top espresso maker 9090. It was followed, amongst other products, by the two-note whistling water kettle Bollitore in 1984, the Bandung teapot in 1990, the Coban espresso machine in 1997, the cheese grater Todo in 2006 and the Cintura di Orione cookware series in 1986 and 2009, conceived with the collaboration of chefs such as Roger Verge, Pierre and Michel Troisgros, and Alain Chapel.
Image source: https://www.finnishdesignshop.com/tableware-carafes-jugs-coffee-pots-teapots-kettle-9091-p-13234.html
Image source: https://www.finnishdesignshop.com/tableware-carafes-jugs-coffee-pots-teapots-espresso-coffee-maker-9090-cups-p-10713.html
In 1980, Sapper was appointed principal industrial design consultant at IBM and began designing numerous portable computers, including the first ThinkPad 700C in 1992, which broke with the company's tradition of pearl-grey machines with a simple and elegant black rectangular box. This minimalistic box would reveal a surprise inside: a small red button amidst the keyboard which would serve to control the screen cursor. Sapper continued to oversee the ThinkPad brand as design consultant to Lenovo after it acquired the IBM PC Division in May 2005.
Image source:https://search.creativecommons.org/photos/59ba3069-66cb-474a-b970-b9b9883aac5f by eMaringolo
Sapper was a gifted designer whose work could be seen as both rational, and emotional, reflecting the Germany of his birth, and the Italy that he moved to at the height of its miraculous post-war rebirth as a global centre for design.
He has developed and designed a wide variety of products, ranging from ships and cars, to computers and electronics, and furniture and kitchen appliances. His clients include Alessi, Artemide, B&B Italia, Heuer, Kartell, Knoll, Lorenz Milano, Magis, Molteni many others. During his long career Sapper was awarded with the Compasso d'Oro design award for ten times, and his work is included in the collections of many museums – New York's MoMA owns almost 20 designs from him.
Trasportation issues
Throughout his career, Sapper devoted great attention to transportation issues. He worked with Fiat on experimental cars, especially on pneumatic bumper systems, and with Pirelli on the development of pneumatic structures. Sapper's research into the development of new urban transportation systems with another Italian architect, Gae Aulenti, culminated with the lightweight, foldable Zoombike – launched in 2000 but no longer in production, a lightweight bicycle designed with aircraft technology to achieve the required strength and speed acceleration, which can fold as quickly and simply as an umbrella and easily fit into a car trunk.
Image source: http://it.phaidon.com/agenda/design/articles/2016/january/04/richard-sapper-1932-2015/
Sapper combined the elegant minimalism and problem-solving of Dieter Rams or Jonathan Ive with the humour and craft of the Milanese designers he knew so well and worked with for years; […] He designed for mass production, but also pushed boundaries with his experimental projects in transportation.
An Enthusiastic Teacher
Throughout his career, Sapper has remained keenly involved in academia, teaching at Yale University, the Hochschule für Angewandte Kunst in Vienna, the Kunstakademie in Stuttgart, the Domus Academy in Milan, the Central Academy for Art and Design in Beijing, the University of Buenos Aires, and the Royal College of Art in London. Richard Sapper has received numerous awards for his products, and his designs are represented in the permanent collections of many museums internationally.
Image source: http://www.zimbio.com/photos/Richard+Sapper/German+Order+Merit+Awarded+President/MxAiEPwmR55
He has been an Honorary Member of the Royal Society of Arts since 1988, and a Member of the Akademie der Künste in Berlin since 2001. The German Design Council awarded him a lifetime achievement in 2009, and in 2012, Sapper received the Merit Cross of the Order of Merit from the President of the Federal Republic of Germany. He died on 31 December 2015.
---
Info sources:
https://www.theguardian.com/artanddesign/2016/jan/08/richard-sapper
https://en.wikipedia.org/wiki/Richard_Sapper
https://www.finnishdesignshop.com/Richard_Sapper-d-731.html
https://www.dezeen.com/2016/01/04/richard-sapper-industrial-designer-dies-aged-83-obituary/