Italian painter, graphic artist and architect of Umbrian and Roman schools, Raphael embodied the idea of the lofty ideals of Renaissance. His famous"The Sistine Madonna" painting is one of the most recognizable in history. Along with Michelangelo and Leonardo da Vinci, Raphael is one of the greatest representatives of art of the High Renaissance.
Image source: http://www.biographyonline.net
About his life.
Raphael was born in a family of a court painter on April 6, 1483 in Urbino, Italy.  In 1504 he began to study painting with the famous Perugino. Thanks to this he had an access the highest circles of the court society, that gave a positive effect on his career. Raphael studied many masterpieces by Leonardo da Vinci and Michelangelo and borrowed a lot from them, but retained his authentic style and unique technique. Raphael was distinguished by his sociability and was a favorite in society. In 1514 he entered the service of Pope Julius II as chief architect. During his short life, he became one of the most famous and wealthy artists in Italy. Raphael died in Rome on April 6, 1520 and was burried in the Pantheon, where his tomb rests till nowadays.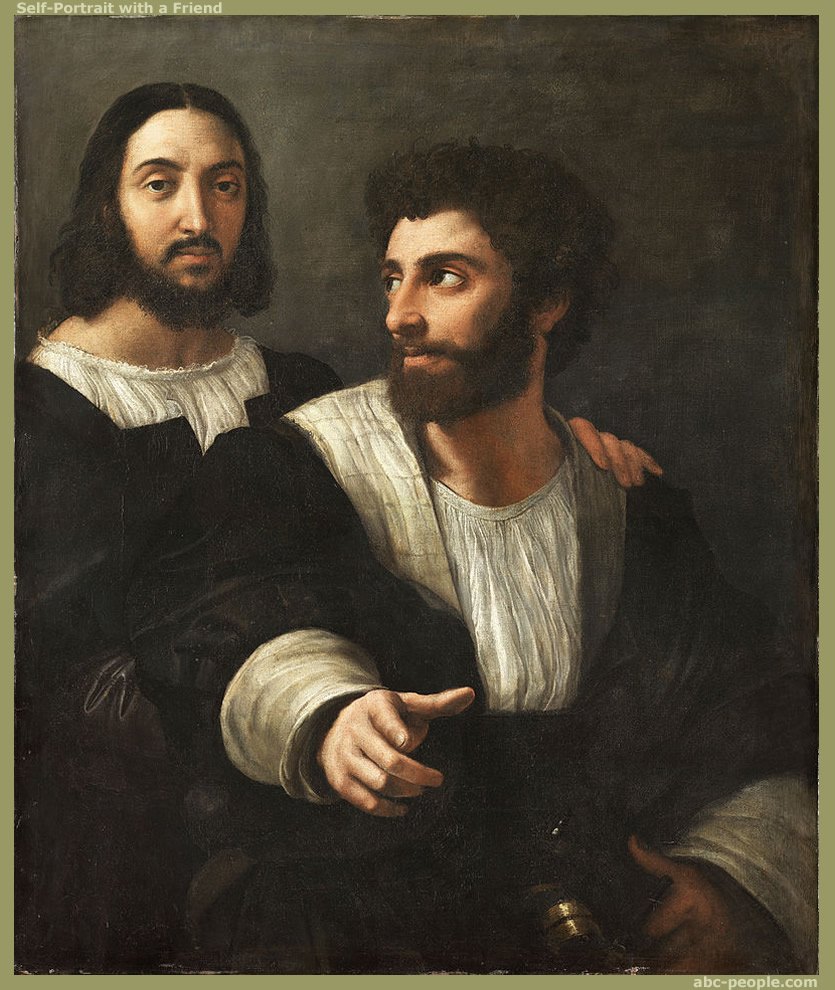 What were his major works?
Paintings.
 The Marriage of the Virgin (1504) was painted in his early years, based on the painting on the same theme by his teacher Pietro Perugino;
Saint George and the Dragon (1506), which depicts  the most famous work on the well-known legend of Saint George slaying the Dragon;
La belle Jardinière (1507), which shows calm faced Madonna in an informal pose with Christ and the young John the Baptist;
Sistine Madonna (1512), which depicts the Madonna, holding the Christ Child and flanked by Saint Sixtus and Saint Barbara and it is considered one of the finest paintings by many notable critics;
La Donna Velata (1515), which shows Raphael's attention to detail which contributes in bringing the painting to life;
Portrait of Baldassare Castiglione (1515), who is considered a quintessential example of the High Renaissance gentleman.
Transfiguration (1520) is the last painting created by Raphael, which can be interpreted as depicting the contrast between god and man; Giorgio Vasari calls it "Raphael's most beautiful and most divine work".
Image source: http://www.italian-renaissance-art.com
Frescoes.
Raphael's frescoes in the Raphael Halls of the Apostolic Palace are the quintessential works of art from the High Renaissance in Rome. The Raphael Halls contain the richest series of High Renaissance paintings ever produced in one place. The most notable two murals in the Hall of the Signature are:
Disputation of the Holy Sacrament (1510), which shows the image of church spanning both earth and heaven and it represent Theology;
The School of Athens (1511), which is considered the perfect embodiment of the classical spirit of High Renaissance and it is the most famous painting by Raphael.
Image source: http://www.wga.hu
The Triumph of Galatea, a fresco masterpiece completed in 1512 by Raphael for Villa Farnesina in Rome. This is an ancient Greek mythological plot, which, perhaps, has no analogues in its ability to convey the spirit of classical antiquity.
Image source: http://christophervolpe.blogspot.it
Architecture.
Raphael was the architect of the chapel in Sant Eligio degli Orefica (1509). According to his project, the Chigi chapel was created in Santa Maria del Popolo (1512-1513), as well as the territory inside St. Peter's Basilica. In addition to religious buildings, Raphael also designed palaces. Raphael's architectural style is distingiable by the use of decorative elements, as well as a classical focus, like his predecessor Donato Bramante.
Image source: https://upload.wikimedia.org
How can we identify Raphael's style?
During the early years Raphael was influenced by Perugino'style, but despite the similarities, his work detaches from it in form and space. The graceful figures are woven into a unity unknown in Perugino's art.
Middle years: Raphael's painting style is characterized by smooth dynamics, greater seriousness and grandeur. Raphael also used painting techniques, in which we can identify the discoveries of Leonardo da Vinci. In Florence, his painting style also changed. He often drew with pen and ink, using them as more crude means of creating and exploring ideas, as well as their definition.
Image source: http://pinacotecabrera.org
In Rome, Raphael developed his oil technique, possibly due to his connection to Venetian painting. The range of his impasto in some of his oil paintings bears little resemblance to the work of earlier artists, which means that it may have been one of his rare innovations. He achieved greater shade depth and richer colors associated with an oily environment.
He gradually abandoned the metal point in favor of chalk and red chalk, especially for working on the female figures in the Triumph of Galatea.
His works demonstrate his attention for basic geometric composition and his practice of examining each figure separately from the living model.
He mainly used oil paint, sometimes egg tempera in the early years.
Image source: https://learnodo-newtonic.com
Info sources:
https://www.biography.com/people/raphael-41051
http://www.visual-arts-cork.com/museums/raphael-rooms-vatican.htm
https://dohertymgv.wordpress.com/2013/02/13/the-triumph-of-galatea/
https://learnodo-newtonic.com/raphael-famous-paintings
http://www.encyclopedia.com/people/literature-and-arts/european-art-1599-biographies/raphael
http://www.biographyonline.net/artists/raphael.html
http://www.artble.com/artists/raphael/more_information/style_and_technique