Carlo Bugatti was an Italian artist and designer who has become famous throughout the world for his unique extravagant style.
Image source: https://en.wikipedia.org/wiki/Carlo_Bugatti#/media/File:Carlo_Bugatti_(1920).jpg
About his life
Carlo Bugatti was born in Milan on February 16, 1856. He studied at the Brera Academy in Milan and at the Académie des Beaux Arts in Paris. After opening his workshop in Milan in 1898, Bugatti exhibited at exhibitions in Turin in 1898 and in Paris in 1900. To start all over again, Bugatti emigrated to Paris in 1904 with his wife Teresa and three children. There he opened another workshop, this time for the production of luxury goods. After the death of his wife and youngest son, he moved with his son Ettore near the Bugatti car plant in Molsheim in the French region of Alsace. Bugatti died in April 1940.
Image source: https://search.creativecommons.org/photos/ae1d5365-4637-4a82-8889-b04eea4d15c7 by lartnouveauenfrance
What were his major works?
Carlo Bugatti devoted much of his research to round and arched forms, which found their way into the Turin International Exhibition of Contemporary Decorative Arts in 1902. There, his Snail Room, built in a spiral around a rod depicting the head of an animal, made a splash. The four chairs and a table in the center of the room are pure sculptures, in which the strength of the form matches the subtlety of the ornament. An international jury awarded the highest award to the artist who was hailed as "the first in Italy to bring contemporary furniture to life, not dream." The Cobra Chair, part of a large set of furniture designed for the Snail-room, anticipates the Art Deco style.
Image source:  https://search.creativecommons.org/photos/356b0404-2aaf-41d2-adfb-5e16b690c4e2 by lartnouveauenfrance
Another remarkable work was the Curule Armchair or Throne Chair (1905), made of walnut and blackened wood, and inlaid with pewter, copper, brass, and bone details. Bugatti's use of mixed textures is always interesting, and it reinforces the sense of dynamic tension created by the lack of symmetry.
Image source: https://www.1stdibs.com/furniture/seating/chairs/carlo-bugatti-throne-chair-ebonized-wood-vellum-copper/id-f_12215533/
Also, his tea and coffee services are particularly impressive—in 1907, he created boar's head, elephant-trunk, and dragonfly-themed sets.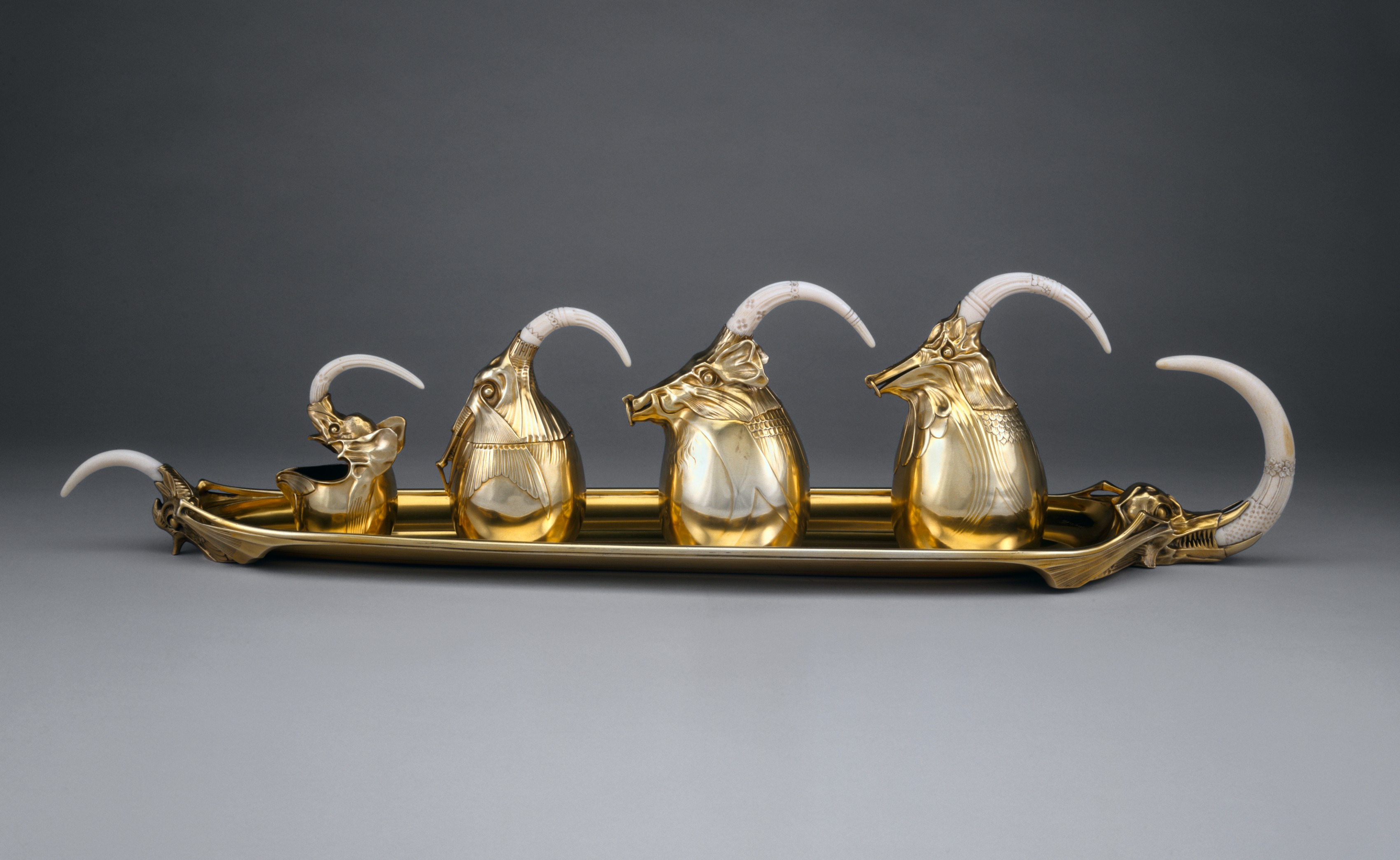 Image source: https://www.clevelandart.org/art/1980.74
How can we identify Bugatti's style?
His style was highly individualist, although he drew on Gothic, Moorish, and Oriental influences and, in particular, on the work of Violet le Duc. His work demonstrates the most confident use of a simple powerful form; sometimes geometric; sometimes organic.
Image source: https://search.creativecommons.org/photos/8c346416-e1d7-4aad-8b06-755d0e131eab by dalbera

His style set him apart from all the fashion trends of the early 1900s. Also, Bugatti was inspired by animals and nature. Many items, which were made from parchment, bone, mother-of-pearl, pewter, copper, and other exquisite materials, have been meticulously crafted in a variety of colors and textures with decorative motifs reminiscent of dragonflies.
Image source: https://search.creativecommons.org/photos/28735093-d208-4ad0-97e0-e4cffaf0f988 by dalbera
---
Info sources:
http://www.bugatti-trust.co.uk
http://www.apartmenttherapy.com