Jens Risom (8 May 1916 – 9 December 2016) was a Danish American furniture designer. An exemplar of Mid-Century modern design, he was one of the first designers to introduce Scandinavian design to the United States.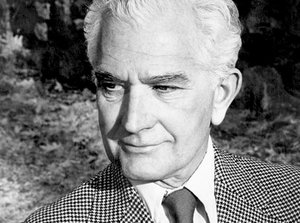 Image source: https://www.finnishdesignshop.it/Jens_Risom-d-1358.html
One of the first designers to bring the traditional Scandinavian values of function and craftsmanship to the United States, Jens Risom was part of a new vanguard that helped establish post-war America's leadership role in modern furniture design and manufacturing.
Education and Migration to the USA
Risom was born in Copenhagen, Denmark, on 8 May 1916. His father was a prominent architect, Sven Risom, a member of the school of Nordic Classicism. Risom was trained as a designer at the Copenhagen School of Industrial Arts and Design, where he learnt the value of simplicity and utility from master craftsmen Ole Wanscher and Kaare Klint.
Risom spent two years at Niels Brock Copenhagen Business College before beginning work with the architectural firm of Ernst Kuhn as a furniture developer and interior designer. He later relocated to Stockholm where he joined the design department of Nordiska Kompaniet where he was introduced to Alvar Aalto and Bruno Mathsson.
In 1939, Risom traveled to New York City to study American design. However, he found it difficult to find work as a furniture designer in New York and was forced to accept a number of textile designs that ultimately secured him freelance work with designer Dan Cooper.
Image source: https://search.creativecommons.org/photos/06b9061c-ab7b-475a-bbcc-27d47dd9c1dc by homestilo
Image source:https://search.creativecommons.org/photos/5da2c85a-0ca6-4ad4-b48d-27af5e69db4e
The Meeting with Knoll, the War and the Jens Risom Design Firm
In 1941, Risom teamed with entrepreneur Hans Knoll and in 1942, they launched the Hans Knoll Furniture Company with 15 of the 20 pieces in the inaugural "600" line designed by Risom. These works included stools, armchairs and lounges, made from cedar and surplus webbing—works which have since become design classics.
With the advent of World War II, Risom was drafted into the United States Army in 1943. After completing his military service, he briefly returned to Knoll in New York before launching his own firm in 1946, the Jens Risom Design (JRD).
Risom's reputation as a furniture designer continued to grow, and he began to promote Scandinavian design in home furniture to the broader American public. In the 1950s, JRD ran a series of ads with the slogan "The Answer is Risom". The advertisement campaign was such a success that in 1954, JRD launched a major expansion of its production facilities. Eventually, JRD shifted its focus away from home furnishings and towards office furniture, hospital furniture and library furniture, before selling the company to Dictaphone in 1970, after having run it for 25 years.
Risom died at his home in New Canaan, Connecticut, at the age of 100.
A Style Developed Within the Constraints of Wartime
Though he was educated as a designer and is most widely known for his furniture, Risom also had a strong interest in architecture and was known for being an avid sketcher, always drawing and designing on the go.
Working ingeniously within the constraints of wartime material shortages, Risom developed several chairs and tables using essentially scraps of wood and rejected nylon straps from parachute production. Despite these constraints, Risom was able to design innovative and truly modern pieces of furniture. In fact, after the first "600 series" and facing increasingly stringent wartime rationing, Hans Knoll was forced to change tack and put Risom to work on more spartan designs, which became collectively referred to as the 650 Line.
Upon release, Risom's collection would be among the only modern furniture available. Deliberately designed for a wartime market, the collection was simple in construction and inexpensive to produce. Of the lot, the Lounge Chair enjoyed particular success.
Image source: https://www.finnishdesignshop.it/mobili-tavoli-tavoli-appoggio-tavolo-magazine-rovere-laccato-p-26635.html
Masterpieces and Famous Works by Jens Risom
Jens' production was marked by times of war and shortage of materials, however, he was able to design and realize a conspicuous amount of furnishings during his career. Two of his most popular designs surely are the Lounge Chair and the A-Chair.
Jens Risom's designs were the first pieces conceived for and manufactured by Knoll. Due to wartime material restrictions, the Lounge Chair was originally constructed of simple maple frames and discarded parachute webbing. Described as good, honest furniture design, the collection helped establish Knoll as an early source of modern design in America.
Image source: https://en.wikipedia.org/wiki/Jens_Risom#/media/File:Jens_Risom._Lounge_Chair,_Model_654W._1941..jpg
Similarly, the simplicity of the A-Chair perfectly captures the enduring integrity of Risom's designs, which emphasize comfort and functionality without sacrificing the clean lines of Danish modernism. This model, conceived in the late 1950s, is a particular favourite of Ralph Pucci, and is produced as part of the Jens Risom for Ralph Pucci line.
Image source: https://www.pantoufle-design.nl/jens-risom-a-chair.html
---
Info sources:
https://www.knoll.com/designer/Jens-Risom
https://www.knoll.com/knollnewsdetail/risoms-600-series
https://www.knoll.com/product/risom-lounge-chair
https://www.knoll.com/product/risom-side-chair
https://www.ralphpucci.net/furniture/Jens-Risom/all
https://en.wikipedia.org/wiki/Jens_Risom
https://www.architecturaldigest.com/gallery/jens-risom-furniture-exhibition-ralph-pucci