Andrea di Pietro della Gondola, also known as Andrea Palladio, is one of the most important architects in history. Father of Palladianism and the Neo-Classical Architecture Movement in the 16th Century.
Image source: https://search.creativecommons.org/photos/dc28ab28-eadf-4fc6-b11b-33fe1894859c by Andrea Palladio
About his life
Andrea di Pietro dalla Gondola, was born in Padua on November  30, 1508.  In 1521 he became an apprentice of a local stonecutter. 3 years later, at the age of 16, he joined the stonecutters' guild. He was engaged in this craft until 1538 when the famous writer Gian Giorgio Trissino noticed his skill and became his admirer and protector. Trissino gave Andrea his humanist name Palladio, inspired by the wisdom of the Greek goddess Pallas Athene.
Image source: https://search.creativecommons.org/photos/ee4d5e06-db59-40a5-b61d-805a691e4b35 by Luigi Baldin

Facts
Andrea Palladio continued his study of ancient Roman architecture and perfected classic style, creating elegant architecture and keeping Veneto rich traditions. Based on his research, Palladio wrote a series of books on architecture, Antiquity of Rome (1554-1570). The complete series, richly illustrated, was printed in 1570 under the title "I quattro libri dell'architettura" (Four Books of Architecture) in Venice. Thanks to his books on architectural theory and his famous buildings expressing Renaissance principles, Palladio became the most influential architect in the pre-modern era.
His major works
Supposedly, Villa Godi Malinverni(c. 1538-1542) in Lonedo was the first independent project. His simplistic, austere style shows some influence from ancient architecture, but the emphasis on crisp cubic shapes heralds his mature style.
Image source: https://search.creativecommons.org/photos/b02698bc-b9f8-47fc-ae78-91ee8bd63c6d by hans a rosbach
The arcade Casa Civena (1540-1546) in Vicenza  recalls the style of the High Roman Renaissance, due to its double Corinthian pilasters above the first floor. Perhaps the architect was inspired by the publications of Sebastiano Serlio.
Andrea Palladio built a series of magnificent villas for the Venetian and Vicenzian nobility on the mainland all around Venice.
Villa Capra or Rotonda (1550-1551, with later changes) is the most famous of his Veneto works. It is located near Vicenza. It is a simplified cuboid shape, topped with a dome over a central circular hall. It has four identical temple front porches, one on each side of the building.
Image source: https://search.creativecommons.org/photos/27c02961-128e-414c-afc2-cc6359cde653
Villa Valmarana 1542 (built 1542 – 1560), for Giuseppe and Antonio Valmarana, Vigardolo di Monticello Conte Otto, Province of Vicenza;
Villa Barbaro (1554 – 1558) also known as Villa di Maser, was built for Daniele and Marcantonio Barbaro in  Maser, Province of Treviso, Italy;
image source: https://search.creativecommons.org/photos/afe73c8a-6ec6-4418-8e25-62c783a0e204 by Renaud Camus
Villa Emo before 1556 (built 1559 – 1565), for Leonardo Emo, Fanzolo di Vedelago, Province of Treviso, Veneto, Italy.
image source: https://search.creativecommons.org/photos/777431eb-1335-4228-b288-8f4d3965a737 by Hans A. Rosbach
The Monastery of San Giorgio Maggiore was Palladio's first work in Venice was the refectory of the construction of which he completed in 1560-1562. This was followed by the Church of San Giorgio Maggiore itself (1565-1610). It has a basilic plan with apsidal transept arms and a deep choir.
image source: https://search.creativecommons.org/photos/e845453b-e191-4419-a2f7-a714f813011c by Indyblue

Assessment
In the entire development of Western architecture, Palladio is one of the most influential figures in fact his palaces and villas were imitated for 400 years. The use of Classical elements of ancient Roman and Greek architecture, in particular, the use of balanced, rational, and geometric forms were the basis of Palladian architecture. These elements define the classical aspects of Palladian architecture: rational, mathematical use of classical elements and a quiet organization of space.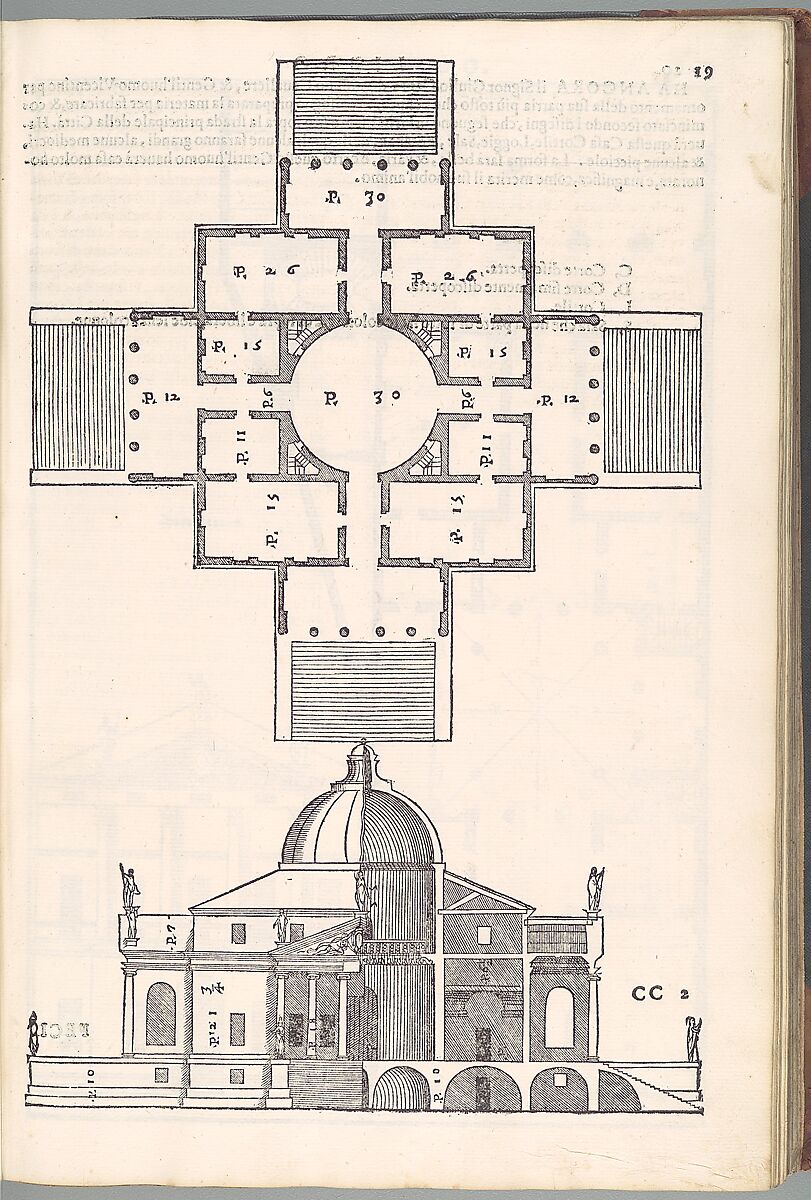 Image source: https://www.metmuseum.org/art/collection/search/355053?searchField=All&sortBy=Relevance&ft=Palladio%27s+I+quattro+libri+dell%27architettura&offset=0&rpp=20&pos=3
Andrea Palladio was the first architect to systematize the plan of a house and to consistently use the facade of the ancient Greco-Roman temple as a portico, or covered portico supported by columns, and finally, in his "I quattro libri dell'architettura", produced a treatise on architecture which, in popularizing classical decorative details, was perhaps the most influential architectural model book ever printed.
The influence of Palladio's publications and his architectural style reached its peak in 18th-century architecture. When the style known as Palladianism was created, it then spread all over the world.
---
Info sources:
http://www.britannica.com/biography/Andrea-Palladio
http://study.com/academy/lesson/palladian-architecture-classical-and-non-classical-features.html
http://biography.yourdictionary.com/andrea-palladio
Please also visit https://www.idesign.wiki/